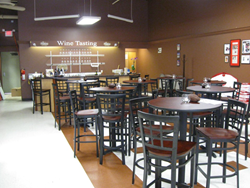 The reversible table tops are popular for all kinds of businesses because they are so versatile and affordable.
Cleveland, OH (PRWEB) April 09, 2014
Successful chocolatier Fantasy Candies recently enlisted the help of Restaurant Furniture Supply to upgrade their seating and tables for their shop in Lyndhurst, Ohio.
Fantasy Candies manufactures the freshest, finest, and most fun chocolate. We work with the finest chocolate from around the world. Fantasy Candies is a leader in the area of high cocoa solids dark chocolates.
Following a lifetime love for chocolate and sweets, Joel Fink started Fantasy Candies Chocolate Factory. They have achieved production of the freshest, most delectable pure Swiss chocolate sensations, guaranteed to satisfy true chocolate connoisseurs. Their chocolate gift creations include specialties of crunchy, chewy, and decadent combinations of the never before thought of. Including milk chocolate, dark chocolate, chocolate covered popcorn, potato chips, hot chocolate, boxed chocolates, and gift baskets. They also sell wine which they include in gift baskets or sell at their shop.
Recently the owner renovated the interior of their shop's wine tasting room. "The owner turned to Restaurant Furniture Supply for commercial chairs because of their reputation for excellent quality at affordable prices," explained sales person Chris K. "He opted to go with the elegant Window Back Metal Bar Stools with a black frame finish and solid wood mahogany seats. It's one of our most popular bar stools. As a business that gets a lot of traffic, he needed a bar stool that they knew would be durable and stand up to heavy usage without getting wobbly or breaking, like a bar stool not constructed for commercial use would tend to do," Chris K. said.
Restaurant Furniture Supply's Window Metal Bar Stool is currently on sale for $54. Customers can choose a solid wood seat or a padded seat made of high density foam. The padded seat is made in the USA and comes in vinyl or fabric in many different colors. A custom seat can also be upholstered in any material for an extra cost. The wood seat comes in cherry, dark mahogany, walnut, natural and black finishes. A custom finish can also be made. The frame comes in black, gold, copper vein, silver vein or gold vein. A matching Window Back Metal Chair is also available and is on sale for $36.
The owner also bought round, reversible table tops, 30" in diameter in mahogany and black with black T-molding edge. The tables also come in oak and walnut with brown T-molding edge. "The reversible table tops are popular for all kinds of businesses because they are so versatile and affordable," remarked Chris. Prices for reversible table tops start at $22 on Restaurant Furniture Supply.
Browse Restaurant Furniture Supply's full selection of commercial grade chairs, bar stools, table tops, table bases, booths and patio furniture at http://www.restaurantfurnituresupply.com/ or talk to a customer service representative at (888) 346-9992.
Fantasy Candies is located at: 5338 Mayfield Rd. in Lyndhurst, OH. They can be contacted at (440) 461-4511.