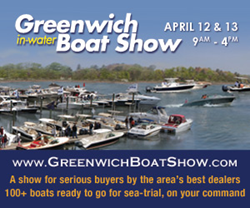 Don't miss the Greenwich Boat Show on April 12 & 13, 2014. It is a great chance to walk the docks and try these fantastic boats on the water to learn how they ride BEFORE you buy them.
(PRWEB) April 10, 2014
The Greenwich Boat Show is the most unique in-water boat show in the Northeast. It's held along the Mianus River in Cos Cob, Connecticut, where boaters can take advantage of free sea-trials to easily test boats on the open waters of Long Island Sound. The show has become a favorite among boaters who get to try an incredible variety of new boat models. And, perhaps best of all, the event is completely FREE to attend.
The 2014 show will feature a remarkable selection of boats from 13 dealers. Those in the market for luxury, high-end vessels have brands such as Chris Craft, Tiara and Hinckley to consider. Meanwhile, the serious fisherman has a wide variety of fishing boats to choose from, including Edgewater, Scout, Grady White and Pursuit. Family cruising boats are well-represented with favorites like Sea Ray, Monterey, Carolina Cat, Chaparral and three new pontoon brands. There is truly something for everyone.
For a peek at the most unique boat show around, see the video at http://www.greenwichboatshow.com.