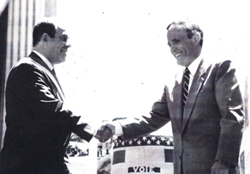 Brest, France (PRWEB) April 16, 2014
Once nearly 1,150 milestones marked the road US troops led by Gen. George S. Patton followed from Utah Beach in Normandy to Bastogne, Belgium. Now the Normandy Company is excited to offer 20 stone monuments on sale for a limited and final time to mark seventy years since D-Day.
Built out of Ferrelith rock, a specially designed form of reconstituted rock, the monuments stand nearly 50 inches high and weigh over 650 pounds. Liberty Road monuments are handsomely decorated with iconography celebrating US forces on victorious march to the heart of Europe. They include images of torches, inspired by the torch carried by the Statue of Liberty, the seas upon which the liberators traveled, 48 stars representing each of the American states, the mile number and names of the two closest towns.
In 1982, monuments which had become traffic dangers were replaced by plastic replicas. The French government put the original stone monuments on sale in 1985, and the Normandy Company purchased them all. In 1992, some of the original restored monuments were erected in New York at the Sea Air Space museum, Veteran's Park in Denver, and in Abilene, Kan. At the Eisenhower Museum.
To learn more about these monuments and this exclusive sale, visit the website: http://www.ddaymonuments.com