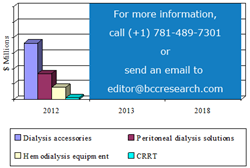 Global Market for Dialysis Equipment and Accesories to Reach Nearly $18.8 Billion in 2018
Wellesley, MA (PRWEB) April 10, 2014
BCC Research (http://www.bccresearch.com) reveals in its new report, Renal Dialysis Equipment: Technologies and Global Markets, the global dialysis equipment and accessories market is expected to grow to nearly $18.8 billion by 2018, with a five-year compound annual growth rate (CAGR) of 7%. Peritoneal dialysis, the fastest-growing segment, is moving at a significant 8.2% CAGR.
Dialysis equipment and accessories are used extensively in dialysis centers, hospitals, and home care settings for artificial renal replacement therapy of ESRD and acute kidney injury (AKI) patients. Peritoneal dialysis, the largest and fastest moving sector in this market, is expected to reach $5.4 billion in 2018, due to the rising cost pressures, and clinical evidence demonstrating its worth in improving quality of life.
The Hemodialysis (HD) equipment market, the second-largest and fastest-growing sector, is projected to reach nearly $2.4 billion by 2018 and register a CAGR of 7%.
"The HD market is expected to be saturated in Western countries by 2018," says BCC Research healthcare analyst Krishanu Bhattacharjee. "Growth is likely to be driven by the establishment of new dialysis centers and hospitals in emerging markets such as India, China, and Thailand. Market growth is also expected to be complemented by the launch and subsequent acceptance of cost-effective, portable HD equipment."
RENAL DIALYSIS EQUIPMENT: TECHNOLOGIES AND GLOBAL MARKETS provides an overview of the dialysis equipment and accessories market and offers in-depth coverage of the competitive landscape. BCC Research determines the current market size, defines trends and presents forecasts of revenue growth over the next five years. It presents in-depth coverage of the various renal disorders and their incidence and prevalence rates across different countries. The various modalities of renal replacement therapies available, their advantages, side effects, and prevalence are also discussed. In addition, this report discusses current market dynamics, including key drivers and industry challenges. It also assesses the technology trends and provides an analysis of the patents filed by the key market participants. Projected revenues are reported with compound annual growth rates (CAGRs) for the period 2013 through 2018.
This report is primarily intended for product managers, executives, directors, operations managers, sales and marketing managers, and strategic planners working in the medical devices as well as the renal dialysis products and services industries.
Editors and reporters who wish to speak with the analyst, should contact Steven Cumming at steven (dot) cumming (at) bccresearch (dot) com.
About BCC Research
BCC Research publishes market research reports that make organizations worldwide more profitable with intelligence that drives smart business decisions. These reports cover today's major industrial and technology sectors, including emerging markets. For more than 40 years we've helped customers identify new market opportunities with accurate and reliable data and insight. These include market sizing, forecasting, industry overviews, and identification of significant trends and key competitors. We partner with analysts who are experts in specific areas of industry and technology. Their up-to-date knowledge gives our customers unbiased measurements and assessments of these vital markets. Because our reports offer a global focus, our customers include the top companies in industries around the world as well as universities, major business schools, start-ups, consulting firms and investment companies. BCC Research is a unit of Eli Research LLC.
Data and analysis extracted from this press release must be accompanied by a statement identifying BCC Research LLC, 49-2 Walnut Park, Wellesley, MA 02481, Telephone: (+1) 781-489-7301; Email: editor (at) bccresearch (dot) com as the source and publisher. Thank you.