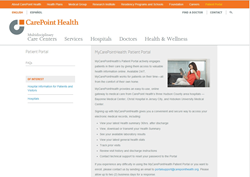 Hudson County, NJ (PRWEB) April 09, 2014
CarePoint Health is pleased to announce the launch of MyCarePointHealth.org, a comprehensive online patient portal designed to provide 24/7 access to important health information and valuable tools for patients and families. MyCarePointHealth.org provides a user-friendly, online gateway to medical care from CarePoint Health's three hospitals: Bayonne Medical Center, Christ Hospital, and Hoboken University Medical Center. The patient portal is part of CarePoint Health's ongoing commitment to enhance the health and well being of the people of Hudson County.
MyCarePointHealth.org is a patient and consumer health portal that actively engages patients in their care by giving them a secure way to access valuable health information online. Patients and their authorized family members can manage a wide range of health data from a single source. Because the system is available 24 hours a day, seven days a week, MyCarePointHealth.org works for patients on their time, wherever they are and at their convenience.
Signing up with MyCarePointHealth gives patients a convenient and secure way to access electronic medical records and tools, including:

View a patient's latest health summary 36 hours after discharge
View, download or transmit a patient's health summary
View available laboratory results
View latest general health stats
Track prior visits
Review visit history and discharge instructions
Contact technical support
CarePoint Health seeks to enhance and optimize the patient experience by providing patients and families with critical health care information through a user-friendly, web-based portal. MyCarePointHealth.org will empower patients and families to stay informed and to take charge of their health and wellness. More information about the service can be found at http://www.carepointhealth.org/patient-portal.
For more information about the Patient Portal, contact:
Allyson Miller
CarePoint Health
Vice President of Marketing and Public Relations
Phone: 201-858-5297
Fax: 973-646-5563
Email: AMiller(at)bayonnemedicalcenter(dot)org
About CarePoint Health
CarePoint Health brings quality, patient-focused health care to Hudson County. Combining the resources of three area hospitals - Bayonne Medical Center, Christ Hospital in Jersey City, and Hoboken University Medical Center - CarePoint Health provides a new approach to deliver health care that puts the patient front and center. We leverage a network of top doctors, nurses and other medical professionals whose expertise and attentiveness work together to provide complete coordination of care, from the doctor's office to the hospital to the home. Patients benefit from the expertise and capabilities of a broad network of leading specialists and specialized technology. And at CarePoint Health, all of our medical professionals emphasize preventive medicine and focus on educating patients to make healthy life choices. For more information on our facilities, partners and services, visit our website, http://www.carepointhealth.org.