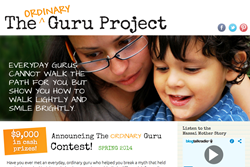 Ordinary gurus are everywhere. Whoever you are and wherever you live, life sends ordinary gurus your way to remind you about all that you can become.
Boston, MA (PRWEB) April 10, 2014
"I spent the better of my middle age years traveling the world in search of gurus who would point me to the meaning of life," says Rob White, a self-made millionaire who earned his fortunes in real estate development and the restaurant business. "I attended lectures, seminars, and retreats from the most prestigious experts on everything from motivation and inspiration to better business and better health. If they'd made a name for themselves, I was in their audience."
Astonishingly, White later came to realize that the best gurus in life weren't charging $5,000 a day for admission to their seminars. No, they were the everyday people who came into his life at just the right time to impart an important lesson or nuggets of wisdom. And sometimes these gurus weren't people at all: they were other magnificent creations of Mother Nature from the animal or plant kingdom. Regardless of the form they take, White calls such fountains of insight and wisdom "ordinary gurus."
"Ordinary gurus are everywhere," White says. "You just need to open your eyes, mind, and heart and be receptive. That clerk in the local grocery store, the cabbie, or the passerby on the street might just say the right and perfect thing that gives you the key to breaking through a myth about yourself, one that's been keeping you down. A beautiful caterpillar dangling from a branch by your window might be nature's way of reminding you that you're an evolving being. Whoever you are and wherever you live, life sends ordinary gurus your way to remind you about all that you can become."
White chronicled the ordinary gurus he's met over the years in his international bestselling book, And Then I Met Margaret. Now he wants to encourage others to share their own ordinary guru tales, past and present, and describe how those gurus impacted their lives. As an incentive, he's launched The Ordinary Guru Project, which is sponsoring a contest with $9,000 in cash prizes. Entrants can submit an essay, a poem, an image, or a graphic story. The first prize winner will receive $5,000, the second place winner $2,500, and a third place winner will receive $1,500. Entries will be judged by Mind Adventure on the basis of authenticity and believability (33.3%), relevance to theme (33.3%), and heartfelt feeling (33.3%). Winners will be announced on or around October 1, 2014. Selected stories from the entrants will also be published in White's forthcoming anthology, The Ordinary Guru Project.
The contest runs from April 1, 2014 through August 31, 2014, and White is hoping that people of all ages and walks of life will submit their stories. "I believe that by raising awareness of ordinary gurus and building a community of people who place a high value on self growth and development, we all benefit," he says.
As inspiration and guidance for those who want to enter the contest, White regularly blogs about his own recent encounters with ordinary gurus and on the fine art of what he calls "guru spotting."
"Open your eyes," White says, "and you'll find that life is always trying to offer you the right and perfect lesson that will help you to break through to a glorious new world of experiences."
To learn more about the Ordinary Guru Contest, visit ordinarygurus.com. Free to submit. There is NO ENTRY FEE.