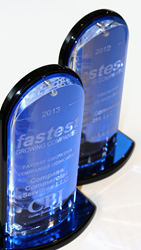 For both Ahmann Properties and Compass to be recognized among such respected and valuable companies within this community is indeed an honor in itself. For Ahmann to debut within the top 5 is a tribute to the dedication, effort and hard work of everyone.
Cedar Rapids, IA (PRWEB) May 21, 2014
Springtime is when most companies sit up and take notice of a very important announcement and honor - The Top 25 Fastest Growing Companies in the Iowa Corridor.
This honor is celebrated by the Corridor Business Journal, a renowned and respected local business journal with a readership of 22,000+. An exclusive issue dedicated to the event is published along with a hosted the ceremony to feature and recognize the 25 companies whose contribution to the local economy is not only monetary, but further stabilizes continued success of local and regional business.
Ahmann Properties is comprised of property acquisition, development, design and management. They have been a leading developer in the community with involvement including but not limited to NewBo, Ellis, Kingston and immediate downtown Cedar Rapids neighborhoods. They are an ever present identity at City Council either proposing new sites for development and community enhancement or supporting ongoing efforts of design and architecture for properties already under acquisition.
Compass Commercial Services achieves a remarkable 3rd straight year as one of the Fastest Growing companies in the region, this year placing 11th on the overall list. Ahmann Properties enjoys its first appearance on the list coming in as the fourth fastest growing company overall.
Compass Commercial Services is a full-service General Contracting and Construction Management firm in the Cedar Rapids area specializing in a wide range of commercial construction projects including interior and exterior renovations, remodeling, building additions and the complete construction of new buildings. From the initial design through the entire building process, customers have the advantage of working directly with one company, and a team that is structured to deliver final projects on time, and on budget.
Both companies, led by award-winning and nationally recognized custom home designer and developer Joe Ahmann, were an integral part of the event that took place May 20th at the Cedar Rapids Marriott.