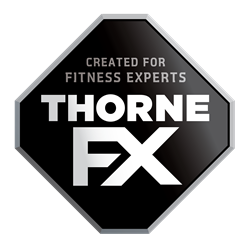 These guys are almost maniacal about their formulation standards and their commitment to quality control.
NEW YORK, NY (PRWEB) April 15, 2014
Thorne Research, well-known for its superior quality formulations and manufacturing practices in the health-care practitioner space is introducing a new line of products for another group of professionals.
With a line of products and services to support the needs of high-end health and fitness experts, ThorneFX was recently introduced to the fitness professional market. This new brand, which will be accessible through qualified health-care practitioners, offers unique nutritional products that target health and recovery, body composition, and performance enhancement, along with six laboratory testing packages.
In addition to an expert internal staff, ThorneFX is supported by an advisory team which includes John Berardi, PhD, co-founder of Precision Nutrition; Joel Jamieson, founder of the heart rate variability app Bioforce HRV; well-known sports dietitian Bob Seebohar, creator of Metabolic Efficiency Training; Canadian Olympic rower and naturopathic physician, Rachelle Viinberg; former CEO of WellnessFX, Jim Kean; and dietitian and founder of Nutrition CPR, Jaime Martinez.
John Berardi said, "Having worked in fitness for nearly 25 years, I've seen the good, the bad, and the ugly of the nutritional supplement world. Some of what's going on out there is downright scary, which is why I got involved with ThorneFX. These guys are almost maniacal about their formulation standards and their commitment to quality control. That's why I use ThorneFX products myself, and why I recommend them to friends and colleagues."
Product quality, unique formulas, and strategic partnerships will be paramount to the success of ThorneFX.
"After more than a decade in the fitness industry, I know how important it is for a fitness professional to maintain his or her reputation. The quality of the products and services that fitness professionals offer their clients can never risk that reputation. With the expertise in sourcing quality materials, product testing, and manufacturing processes that Thorne Research has, we have created a new product line that fitness experts can be proud of," said Tom Nikkola, Vice President of Business Development and General Manager of ThorneFX.
He added, "We also see tremendous value in strategic partnerships. Our partnership with WellnessFX will allow fitness professionals the means to hold their clients accountable in properly managing their health through regular lab testing. And our partnership with Precision Nutrition will help us ensure that those who become affiliate partners have a solid foundation in nutrition and behavior change."
ThorneFX products can be found at any of the 100+ Life Time Fitness locations or through a growing number of ThorneFX affiliate partners.
Learn more about ThorneFX at http://thornefx.com/
About Thorne Research
Since 1984 Thorne Research has set the standard for exceptional quality manufacturing and formulation of premium dietary supplements available through licensed health-care practitioners. With more than 400 products, health-care practitioners recognize Thorne Research as a global leader in providing dietary supplements of the highest quality and purity. With locations in Sandpoint, Idaho, and New York City, Thorne Research operates a state-of-the-art manufacturing facility and employs more than 260 people. Further information on Thorne Research is available at http://www.thorne.com.