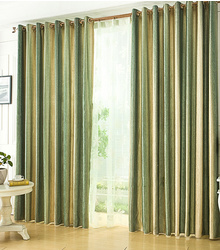 (PRWEB) May 05, 2014
Lightinhome, a leading curtain wholesaler and retailer, has recently completed a move to a new facility that houses its offices, manufacturing and warehousing. Today, the business announces its new models of horizontal striped curtains, and offers big discounts on these models.
These horizontal striped curtains can be made according to customers' requirements. Each stripe is made the same length for that elegant polished look. If any customer is looking for different measurements, she/he can feel at home to ask; the company can adjust the length and the width for her/him.
"We are devoted to designing and offering high-quality curtains with fast delivery to the clients worldwide. We now offer discounted international shipping through global providers. As you visit our website, you will see prices in your selected currency. To learn more about our shipping policy, please visit our website," the spokesman for the company says.
Lightinhome's curtains are popular for the fashionable designs and delicate craftsmanship. These new prom dresses are certainly no exception. Curtains can be custom made to any color or length upon request at Lightinhome. Price is subject to change due to color.
The spokesman adds, "Choose your length and leave a note. We will do others for you. Everything is made and designed in our smoke-free sewing studio. We are ready to provide more different styles of curtains in the latest trends to hit the market."
About Lightinhome.com
Lightinhome.com is one of the world's leading home furnishing retailers; it provides custom curtains and all kinds of curtains at affordable rates. The company's products include vintage floral curtains, country curtains, blackout curtains and more. To find more information about the company, please visit: http://www.lightinhome.com/striped-curtains-c-1_9.html.