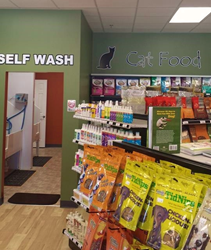 Marietta, Georgia (PRWEB) April 09, 2014
EarthWise Pet Supply continues its rapid expansion on the East Coast with its first store in Georgia.
EarthWise Pet Supply is known for having one of the largest all natural pet food and treat selections in the country. Coupled with a breadth of pet-related services, EarthWise Pet Supply is sure to make a splash this Summer. "This is one of our most beautiful stores yet," says Marketing Director, Jorge Aguero.
The Marietta store takes pet store design to another level with the addition of a state-of-the-art grooming and self-serve dog wash facility. "Most dog wash facilities feel like car washes," says Aguero, "this one feels like a spa."
This new push to be the leader in stores offering natural pet supplies and spa-like pet services is an attempt to capitalize on a growing need for clean and functional pet service and retail facilities. Local Atlanta residents and owners Susana Rodriguez and Erik Velazquez will be holding their Grand Opening on Saturday, April 12th, from 10am-6pm.