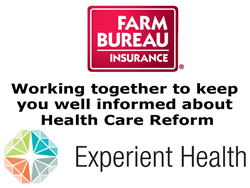 Richmond, Va. (PRWEB) April 10, 2014
The idea of giving employees work-related benefits and discounts is very common throughout the United States. Work for a gym and get a membership for free. Work at a restaurant and never worry about lunch.
These fringe benefits can add up to major annual savings for employees, but can also be a tax benefit for companies, Experient Health wrote in its Blog series helping educate the community on benefits, health insurance, healthy lifestyle choices and healthcare reform.
Experient Health, headquartered in Richmond, Va., is the health insurance arm of the Virginia Farm Bureau.
"Under Code Sec. 132, there are basic types of benefits, each with their own sets of rules that must be followed if the benefit is to receive favorable tax treatment," Experient Health wrote. "Knowledge of the rules specific to each type of benefit is crucial, because noncompliance might result in penalties on the employer for under-withholding income and penalties on the employees for under reporting income."
What are the different types of fringe benefits?
According to Experient Health, they can include the following:

No additional cost services, like hotel rooms, entertainment and transportation tickets
Qualified employee discounts, like to swimming pools, fitness facilities and golf courses
Working conditions, like use of a company car for business or job-related education
De Minimis fringe benefits, which can include property or services, provided by an employer for an employee, with a value so minimal that accounting for it is unreasonable or administratively impractical. Examples are group meals at employee picnics, theater and sporting events, coffee and donuts
Transportation, like transit passes and parking permits
Educational reimbursements and allowances
Moving expense reimbursements
Qualified Retirement Planning Services
Read more details about these fringe benefits in Experient Health's community education Blog series here.