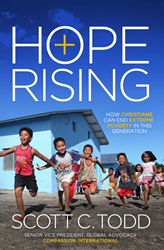 The trouble is with our theology of power. We simply do not comprehend the power within us. We are quick to say that we have no power, but that's false humility.
Colorado Springs, CO (PRWEB) April 09, 2014
Findings in a new research study conducted on behalf of Compassion International by Barna Group reveal that a majority of Christians believe global poverty is a spiritual problem with a financial cure.
"Though many Christians may agree that extreme poverty is a problem that requires both spiritual intervention as well as financial investment, most people do not currently see options for action beyond donating money or volunteering," said David Kinnaman, president of Barna Group. "Most Christians do not see prayer and fasting as legitimate disciplines to address the problem of global poverty. While survey research cannot reveal causal relationships, it may be that this neglect to the spiritual responsibility of the Church to fight global poverty, in turn, affects people's desires to give of their time and money."
While 62% of practicing Christians have made a financial donation to a nonprofit organization to help those in extreme poverty and 40% of practicing Christians volunteered for a church in helping the global poor or disadvantaged, few engaged in the movement to eliminate poverty beyond a financial donation or volunteered time.
"I believe that God wants us to eradicate global poverty, and he has given us the necessary resources to do it," said Scott C. Todd, senior vice president for global advocacy for Compassion International. "The trouble is with our theology of power. We simply do not comprehend the power within us. We are quick to say that we have no power, but that's false humility. We can end global poverty, but only through constant prayer, leaning not on our own understanding. We are praying with our sleeves rolled up as we draft a strategy and get to work. That's how we will end global poverty."
Dr. Todd's new book, Hope Rising: How Christians Can End Extreme Poverty in This Generation offers a bold challenge to Christians to engage in the spiritual and financial battle to eliminate global poverty by using all of the resources, spiritual and financial, God has given in a powerful way that will change the world. Hope Rising is due for release by Thomas Nelson on April 29, 2014. For more information, please visit http://www.HopeRisingBook.com.
Compassion International is the world's leading authority in child sponsorship. Compassion revolutionized the fight against global poverty by equipping the Church to develop children out of poverty to become responsible and fulfilled Christian adults. It is the only child sponsorship program to be validated through independent, empirical research. Today, Compassion partners with more than 6,000 Christian churches in 26 countries to release more than 1.4 million babies, children and students from poverty in Jesus' name. Compassion has been awarded the highest rating for financial stewardship and transparency for 12 consecutive years by Charity Navigator, America's largest charity evaluator. For more information on the ministry, visit compassion.com or follow on Twitter at @compassion.