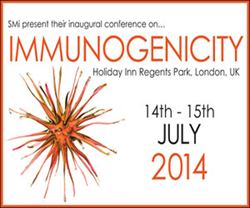 London (PRWEB UK) 9 April 2014
Ronit Mazor, Research Fellow, National Cancer Institute N I H is conducting a study at the National Cancer Institute, National Institutes of Health about "Identification and Elimination of T-cell Epitopes in a Recombinant Immunotoxin Based on Pseudomonas Exotoxin A".
"My project was to try to identify and eliminate what's called epitopes, those parts of the bacterial portion that alarms the immune system. They're called T-cell epitopes. T-cells are lymphocytes in our body that can recognize pathogens. So that's the work we've been doing, trying to identify and eliminate the T-cell epitope exotoxin A." – by Ronit Mazor, 23rd January 2014, http://historyatnih.tumblr.com/post/74276591608/ronit-mazor-nci-identification-and-elimination
Ronit Mazor will be presenting about her study at the inaugural Immunogenicity Conference taking place in London on the 14th and 15th July 2014. The presentation "Identifying and removing t cell epitopes in immunotoxins" will focus on:

Immunotoxins are therapeutic proteins that are used to treat cancer. Immunogenicity is their main stumbling block in the clinic.
Assessing comprehensive experimental methods to identify and eliminate the T cell epitopes in the immunotoxin.
Designing a new immunotoxin that has significantly diminished T cell immunogenicity and yet an excellent anti-tumor effect.
This conference will also feature a presentation from Key Opinion Leader David Scott, Professor and Vice Chair for Research, Uniformed Services University of Health Science about "Novel methods to induce tolerance for adverse immune Reactions".
Immune tolerance mechanisms versus reducing immunogenicity
Application of B cell presentation for tolerance
Fc fusion proteins and the role of IgG epitopes
Application of specific T regulatory cells to control immune responses
For more information about the agenda and the speakers please visit our website or contact Fateja Begum on +44 (0) 20 7827 6184 or email fbegum(at)smi-online(dot)co.uk.
About SMi Group
Established since 1993, the SMi Group is a global event-production company that specializes in Business-to-Business Conferences, Workshops, Masterclasses and online Communities. We create and deliver events in the Defence, Security, Energy, Utilities, Finance and Pharmaceutical industries.
We pride ourselves on having access to the world's most forward thinking opinion leaders and visionaries, allowing us to bring our communities together to Learn, Engage, Share and Network. We hold events in over 30 major cities throughout the world including London, Paris and Singapore and to date have welcomed over 200,000 participants from 80 countries.
For more information, please visit http://www.smi-online.co.uk.