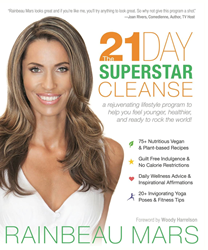 Los Angeles, CA (PRWEB) April 10, 2014
Since her birth under a double rainbow, Hollywood health guru RAINBEAU MARS has motivated and guided others on their journey to a greener, healthier lifestyle. The VIP yogi's sold more than 2,000,000 yoga DVDs worldwide and downward dogged with A-listers including David Duchovny & Grammy-winner Jason Mraz.
Mars caused a stir last summer when she invited guests attending her high-profile Hawaiian nuptials to take part in her signature 21-day vegan cleanse. Now she's finally releasing her long-awaited book 21 Day Superstar Cleanse: A Rejuvenating Lifestyle Program to Help You Feel Younger, Healthier and Ready to Rock the World, outlining her zero-calorie-restriction cleanse, complete with a step-by-step road map to the rejuvenating program and a foreword by Woody Harrelson, taking readers on an adventure of food, yoga, fun, and personal awakening! 21-Day Superstar Cleanse also includes endless recipes for delicious, alkalizing, energizing meals like vegan pizza, banana-topped pancakes, and chocolate shakes to name a few.
The mom to ten year-old Jade will throw a glam 'green carpet' event on May 4th hosted by Russell Simmons, Shannon Elizabeth, & Rosanna Arquette to celebrate the official release of her book, which was published by Deeper Well Publishing.
Celebrity Endorsements:
Oscar Winning Director James Cameron
"Put aside the foods that pollute, destroy and harm, and eat what the mother has provided us—food that's healthy for your body and the planet. Rainbeau will show you how."
Supermodel/Entrepreneur Josie Maran
"Rainbeau inspired me to appreciate the power of natural health, beauty, and fitness through healing and delicious foods. I am grateful to call Rainbeau one of my best friends and teachers and excited that now, you will also."
Actor David Duchovny
"Rainbeau Mars is the rare gift in a teacher: able to lead by instruction, example, and inspiration. I love everything Rainbeau does ... why don't we all give this program a try as well?"
Comedienne/TV Host Joan Rivers
"Rainbeau Mars looks great and if you're like me, you'll try anything to look great. So why not give this program a shot."