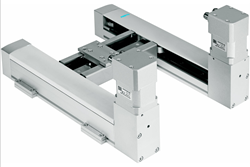 Hauppauge, NY (PRWEB) April 15, 2014
Festo announces the availability of the EXCM mini-H gantry, an innovative handling system for small parts assembly and medical laboratory automation. This X/Y planar gantry system is fast, accurate, modular, and flexible. It is also plug-and-work for quick and easy start up.
The design of the new mini-H gantry is derived from industrial-scale systems being used in the semi-conductor, electronics assembly, and food and beverage industries. "Resizing the system to a smaller form factor delivers a host of advantages, including proven technology, durability, dependability, precision motion control, and economies of scale leading to lower overall cost compared to other solutions," said Frank Langro, Director of Marketing and Product Management for Festo.
An elegant design involving only two motors and a toothed belt are responsible for its overall small form factor, precision, and speed. The model EXCM-30, for example, delivers speeds of up to 1.6 feet/s (500 mm/s), absolute accuracy of ±0.020 inches (±0.5 mm), and repeatability of ±0.002 inches (±0.05 mm).
Applications in small parts assembly, include the feeding and screwing in of small components, setting adhesive points, electronics testing such as contact points or resistance, the flexible positioning of workpieces and components in assembly operations, palletization and depalletization, desktop manufacturing, and assembly.
Typical applications in the laboratory include transfer of micro-well plates, liquid dispensing/pipetting with the addition of a Z-axis, sample preparation and transport, barcode-based sample identification, sample distribution, aspirating, incubating, dispensing, and archiving.
The EXCM arrives at the customer's location with critical parameters already loaded for plug-and-work operation. A flexible interface concept provides users with a choice of TCP/IP Ethernet or CANopen for unlimited positioning, or digital I/O for up to 31 positions.
For more information on the Festo mini-H gantry EXCM, call Festo at 800-993-3786 and visit http://www.festo.com/us.