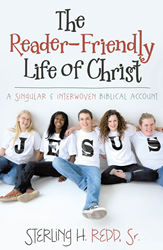 I wanted to make the story of Jesus complete and singular.
Salt Lake City, Utah (PRWEB) April 11, 2014
The gospels of Matthew, Mark, Luke and John all combine to tell the story of Christ, but unfortunately to get a full picture in the Bible one must bounce back and forth between them, hopefully not getting lost in the shuffle.
Author Sterling Redd has recognized this source of confusion and frustration for himself as well as other Christians, so he wrote his new book, "The Reader-Friendly Life of Christ," in hopes of addressing the problem.
"I wanted to make the story of Jesus not only a complete and singular story," Redd said. "But I needed it to flow like a novel in order to keep a reader's attention."
Dropping the unnecessary duplication, extraneous and overwhelming parts in the New Testament accounts, Redd has created a single linear, flowing, yet purely scriptural and comprehensive account of Jesus' life and teachings. While the book could never act as a substitute to the Bible itself, it certainly aims to be a reader-friendly companion piece.
"The Reader-Friendly Life of Christ"
By: Sterling Redd
SC-ISBN: 978-1-4908-2062-0
SC-Retail price: $19.95
HC-ISBN: 978-1-4908-2063-7
HC-Retail price: $35.95
EB-ISBN: 978-1-4908-2061-3
EB-Retail price: $3.99
Available at barnesandnoble.com and amazon.com.
About the author
Sterling Redd has published five books in his life and was a writer for the Utah State Department of Health. He was employed as a high school English teacher and then a clinical social worker. He has spent many years volunteering at an employment center, conducting addiction recovery program meetings and teaching gospel doctrine classes. He has attended Sunday school classes throughout his 75 years of life developing a passion for writing with the purpose of making scripture easier to understand and more meaningful in the lives of his readers.
###
**FOR IMMEDIATE RELEASE**
EDITORS: For review copies or interview requests, contact:
Spencer Hotz | 317.602.7137| shotz(at)bohlsengroup(dot)com
(When requesting a review copy, please provide street address.)