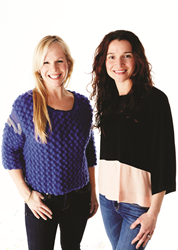 Minou means 'kitten' in French. When you tell a child that he is 'un petit minou,' it means he is just adorable!
Burlington, VT (PRWEB) April 10, 2014
Minou Kids, a Vermont based e-tailer has unveiled an exceptional shopping experience dedicated to bringing its customers the coolest brands in kids fashion. The one-stop shopping destination for hip and discerning parents is also dedicated to delivering stellar customer service. This effort is bolstered by a partnership with The Vermont Country Store, an American icon with over 68 years of retail experience.
"We are delighted to offer our customers a level of service that most start ups can't," says Julie Harvey, Minou Kids Co-Founder, whose husband, Eliot Orton is a 3rd generation proprietor of The Vermont Country Store.
You can find Minou Kids here: https://minoukids.com/.
Minou Kids is the brainchild of style makers Marie-Michelle Gaudreau and Julie Harvey, Vermont-based entrepreneurs with extensive retail and fashion experience. Marie-Michelle worked with Canadian retail giant La Maison Simons as well as Burton Snowboards, where she helped create the snowboarding leader's retail destinations. Julie hails from Cossette Communications, one of Canada's largest ad agencies and has a powerful background in marketing and communications.
Shopping Minoukids.com
Upon entering minoukids.com consumers are welcomed to a storefront that captures a look of simple sophistication. 'Minou' means 'kitten' in French. When you tell a child that he is "un petit minou," it means he's just adorable…and perhaps a little bit naughty. Minou's signature yellow logo is a crown seated on top of a playful character. The yellow pops in every corner of the site, perfectly reflecting the happiness, optimism and whimsy of kids 0-6! The 'cart' to hold purchases is a yellow 'Tote' and each order can be delivered wrapped in yellow tissue paper and boxed in Minou Kids' signature yellow ribbon with white polka dots.
The site carries over 300 hand-selected pieces from brands that share the same passion for quality, detail and style. More than 30 brands are represented, including Beau Loves, Nui Organics, Mini Rodini and Nununu, just to name a few. Sizing covers baby through 6-years. Minoukids.com is easily navigated by the following product categories: Baby, Girl, Boy, Natural, Décor, Play and Gifts. Shoppers can also browse through gift ideas and seek inspiration in the 'Minouverse' – Minou Kid's blog.
Site Features
Julie and Marie-Michelle personally developed the sites' content, features and functionality, optimizing its performance on all devices. Consumers can sign up for newsletters that will feature exclusive previews and offers. A visit to Minoukid's blog and social media platforms will give consumers a glimpse into Minoukid's inspirations, the wonderful changing seasons of Vermont, the founder's children and their travels to find the best brands to share.
A monthly 'Pop Up' shop section will highlight a selected designer and spotlight new and popular pieces. A 'Be Inspired' section will feature outfit suggestions and lifestyle tips directly from the founders.
The Minou Kids Community
Minou Kids is dedicated to remaining closely connected to their loyal community of fans that visit the site. An active Facebook presence at https://www.facebook.com/minoukids; Instagram, http://instagram.com/minoukids#; twitter: https://twitter.com/minoukids and Pinterest, http://www.pinterest.com/minoukids/ allows the Minou Kids community to engage with the brand. The "Minouverse" blog explores everything from trending colors, prints and styles to fashion inspiration and sneak peeks at the goings on in the world of Minou Kids.
"We have brought together an experienced team of Vermont-based e-commerce experts and amazing web designers to create a shopping experience that is worthy of the Minou Kids brand," says Marie-Michelle. "The site inspires, engages and assists shoppers and really allows them to experience the depth of the collections we've pulled together. It has been a tremendous asset for us to tap into Vermont's creative and tech-savvy work force to bring this company to life."
The Story Behind Minou Kids
After their children were born, Julie and Marie-Michelle were having a hard time finding kids' clothes they loved. They wanted their children to be an extension of their own personal style. They had to scour many websites and boutiques in different cities to find the sorts of clothes they were looking for. Voila! The idea for bringing cool and emerging kids clothing designers together on a convenient and easy to use website was born. Minou Kids has gone from an entrepreneurial dream to a reality.
"Our primary inspiration for creating the site is our children, of course!" says Julie. "After our children were born, we became acutely aware that a parent's sense of personal style is directly reflected in what they chose for their baby's wardrobe. The ease of having access to the perfect collection of designs from around the world is a true perk for busy parents."
Minou Kids is fueled by the individual stories and mission of the designers and small companies that are featured on the site. "We are thrilled to be working with these incredible kids' clothing designers," says Marie-Michelle. "We love each anecdote of their inspirations, their families, their dedication to high quality. Each brand is so unique and we share the same dedication to fresh design, small runs and the search for sustainably-sourced, extraordinary materials."
Friends before they learned to talk, the Quebec City natives both now live in Vermont. When Marie-Michelle moved to Burlington 10 years ago with her husband George Ewins, Julie visited often. During one of her weekend visits Marie-Michelle and George introduced Julie to her now-husband Eliot. Soon after Eliot convinced Julie to move to Vermont too. The girls traded their urban life for country living but never gave up their love for fashion and style. Together, Julie and Marie-Michelle love every aspect of running Minou Kids!
For More Information: For more detailed product information, please contact Ann Pechaver: apechaver(at)yahoo(dot)com or call 802-578-7512. Visit the Minou Kids web site at http://www.minoukids.com.