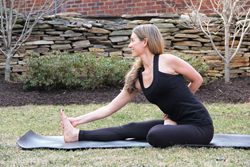 Washington, DC (PRWEB) April 09, 2014
The Ritz-Carlton Georgetown, Washington, D.C. is inviting yogis, fitness enthusiasts and foodies to unite for a deliciously invigorating weekend with the launch of Yoga Brunch and Fitness Brunch.
Beginning Saturday, April 12th, hotel guests and locals can start their Saturday mornings on the right note with Yoga Brunch. For $45 per person, guests will be able to enjoy a blissful yoga class in the hotel's picturesque Urban Garden, followed by a mouth-watering brunch with bottomless mimosas. Suitable for yogis of all levels, the hour-long, all-levels vinyasa yoga class begins at 10 a.m. every Saturday and is led by yoga instructor Alexis McCoy. Afterwards, guests will enjoy a gourmet brunch in Degrees, or the intimate outdoor terrace, featuring a tantalizing selection of small plates and entrees from Degrees' new brunch menu.
On Sundays starting May 18th, the hotel will also offer a special Fitness Brunch featuring a high intensity boot camp class led by personal trainers Chris Perrin and Ingrid Nelson. The complimentary, hour-long class takes place every Sunday at 10 am in the hotel's Urban Garden, and combines the energy of interval training with the intensity of boot camp training. Afterwards, guests can reward themselves with brunch in Degrees featuring enticing cuisine, bottomless mimosas and a live jazz performance in the afternoon. Priced at $40 per person, the luxury hotel's brunch is available from 11 a.m. to 4 p.m. every Sunday.
Reservations for The Ritz-Carlton Georgetown, Washington, D.C.'s Yoga Brunch and Fitness Brunch are required and can be made by calling Restaurant Reservations at (202) 912-4110.
For more information or reservations for The Ritz-Carlton Georgetown, Washington, D.C., please call the hotel directly at (202) 912-4100 or visit http://www.ritzcarlton.com/georgetown.
About The Ritz-Carlton Hotel Company, LLC
The Ritz-Carlton Hotel Company, L.L.C., of Chevy Chase, Md., currently operates 85 hotels in the Americas, Europe, Asia, the Middle East, Africa, and the Caribbean. More than 30 hotel and residential projects are under development around the globe. The Ritz-Carlton is the only service company to have twice earned the prestigious Malcolm Baldrige National Quality Award, an award that originated in 1987. Its purpose is to promote the awareness of quality excellence, recognize quality achievements of companies and publicize successful quality strategies. The Ritz-Carlton Hotel Company won the award in 1992 and 1999. For more information, or reservations, contact a travel professional, call toll free in the U.S. 1-800-241-3333, or visit the company web site at http://www.ritzcarlton.com. The Ritz-Carlton Hotel Company, L.L.C. is a wholly-owned subsidiary of Marriott International, Inc. (NASDAQ:MAR).