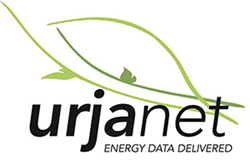 Each utility provider speaks a different language with different structures, rates, semantics, and tariffs. We'll discuss how essential it is to have good data from your utilities to make informed energy decisions.
Atlanta (PRWEB) April 10, 2014
Urjanet - the world's first provider of big energy data - will team up with Johnson Controls and Verdantix to offer a complimentary webinar What Happens When Good Energy Data Goes Bad? on Tuesday, April 22 at 2 p.m. EST. Webinar registrants will learn how accessing timely, accurate, and high-quality energy data is the first step for making smarter, more profitable, and eco-friendly energy decisions.
"Acquiring energy data, with its large volumes and disparate formats, is a daunting task because there are no standards in the industry," said Urjanet's Vice President of Sales, Erik Becker, who will moderate the panel discussion. "In this webinar, we'll discuss how essential it is to have good data to make informed decisions related to energy."
Session attendees will learn what causes good energy data to go bad, why bad data leads to missed opportunities and poor capital investments, and how automating energy data acquisition can help reduce energy costs and carbon emissions.
For the webinar, Urjanet has partnered with energy management industry experts including Joseph Aamidor, Product Manager for Johnson Controls, Inc., and Alisdair McDougall of the leading research analyst firm Verdantix.
"We're particularly excited for this session, and to have such knowledgeable guest speakers," Becker said. "Verdantix's research in the world of energy management and sustainability combined with JCI's subject matter expertise on building technologies and services for facility managers will be valuable insight to this session's attendees."
Click here to register for 'What Happens When Good Energy Data Goes Bad?'.
ABOUT URJANET
Urjanet is the world's first provider of automated Big Energy Data that enables organizations across all industries to make smarter, more profitable and eco-friendly energy decisions.
The company's award-winning subscription data products help companies and governments improve financial performance, energy efficiency and sustainability by delivering energy data directly to their business intelligence, energy management, accounting and procurement systems.
Urjanet is a privately held company headquartered in Atlanta. For more information, visit http://www.urjanet.com.