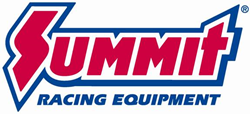 Tallmadge, OH (PRWEB) April 14, 2014
Ready to run right out of the box, Summit Racing's Street & Strip 4-barrel square bore carburetors are designed to deliver crisp throttle response with minimal tuning. That's probably why the guys on PowerNation's Detroit Muscle decided to feature one on their "Movie Car Magic" episode.
The Street & Strip carburetors are packed with details typically found in more expensive carburetors like a 30cc accelerator pump (dual pumps on mechanical secondary models), annular discharge boosters, a thick base plate surface, and a high-flowing power valve channel with a valve guaranteed for a million miles.
To make tuning as easy as possible, the carburetors have clear sight glass float windows to help set the externally adjustable center-hung floats, plus a new booster cluster design with interchangeable pump discharge and idle circuit restrictions.
The carburetors have an aluminum main body for excellent warp resistance and weight reduction. An advanced one-piece design ensures leak-free operation, while the color coded vacuum ports make installation a breeze. The tumble-polished finish means they add a nice sparkle to the top of the engine.
Summit Racing Street & Strip carburetors come in 600 CFM and 700 CFM models, with either vacuum or mechanical secondaries, and a mechanical or electrical choke. Summit Racing has upgrade and rebuild parts for the Street & Strip carburetors as well.
A Summit Racing Street & Strip Carburetor was featured on Episode Three of PowerNation's Detroit Muscle. Watch the full episode here.
SEE ALL STREET & STRIP CARBURETORS AT SUMMIT RACING
Summit Racing Equipment
http://www.SummitRacing.com
1-800-230-3030