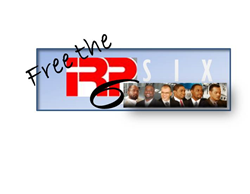 Denver, CO (PRWEB) April 10, 2014
Advocacy group, A Just Cause, today published an open letter sent to the Colorado Women's Hall of Fame by Kea Banks, daughter of IRP6 David Banks, as she protests the induction of a federal district judge. According to the letter, young Banks is calling on Colorado Women's Hall of Fame Board Chair, Elizabeth Heid, to revoke the induction of Judge Christine Arguello.
According to the Denver Post, Judge Christine Arguello was one of ten women recently inducted into the Colorado Women's Hall of Fame during a ceremony in March 2014. (http://www.denverpost.com/business/ci_25347730/colorado-womens-hall-fame-induct-class-2014-thursday)
In an excerpt from the letter to the Colorado Women's Hall of Fame, Kea Banks writes, "I implore you to look into United States v. Banks, (consider the facts), and I ask you to rescind your acceptance of Judge Christine Arguello into the Colorado Women's Hall of Fame. You may think that I am only writing this letter because my father is in prison. You may think that because I am his daughter I may not be able to see the situation clearly. Possibly I am too young and I do not understand how the system works. I assure you I understand perfectly fine. I see this situation as clearly as anyone is able too." (http://www.freetheirp6.org/#!A-Daughters-Open-Letter-on-Behalf-of-her-Father/crnp/3FD8B33A-03A1-4734-AB67-924642503BAF)
"While A Just Cause respects and applauds what The Colorado Women's Hall of Fame is dedicated to doing in recognizing women from all walks of life for their contributions to the state of Colorado, A Just Cause wholeheartedly supports Ms. Banks in her protest of Judge Arguello", says Sam Thurman, A Just Cause. "Kea is a very intelligent young lady, and she should be commended for standing strong and applying life's lessons that her father has shared with her," added Thurman.
"I was nineteen when my father went to prison," recalls Banks. "Technically I was already an adult, but I was not by any means done learning. I was not done learning what my father had to teach me. I looked to my father as a mentor and source of encouragement. He has always been my example in what it means to conduct oneself with honor and dignity, so when I saw him pursuing his dream with IRP Solutions, that let me know that I can pursue my dreams of being an attorney. I've wanted to be an attorney from a very young age but my father knew that I lacked the confidence needed to be successful. He felt it important to instill confidence in me. He has always supported my passion to become an attorney. He would always tell me that it is important to remember not to get wrapped up in the politics of the system. It was not until my father's trial that I saw what he meant by the politics of the system," shared Banks.
The IRP6 case concerns an African-American company (IRP Solutions Corporation) in Colorado that developed the Case Investigative Life Cycle (CILC) criminal investigations software for federal, state, and local law enforcement. The company was raided in 2005 by federal investigators alleging that company executives were involved in illegal activity. The IRP6 (Kendrick Barnes, Gary L Walker, Demetrius K. Harper, Clinton A Stewart, David A Zirpolo and David A Banks) were convicted in 2011 after being accused of mail and wire fraud (D. Ct. No. 1:09-CR-00266-CMA). The IRP6 have been incarcerated for over 20 months in federal prison in Florence, Colorado while their case is under appeal.
Court records show that, among several points under appeal, Attorneys for A Just Cause are petitioning the courts to release over 200 pages of court transcripts from the IRP6 criminal proceedings that are deemed critical by the defense for their appeal. Court records from the criminal trial of the IRP6 show that Court Reporter Darlene Martinez admits to omitting over 200 pages of the transcript, and that Federal Judge Christine Arguello did not release the omitted pages. (D. Ct. No. 1:09-CR-00266-CMA, October 2011, Court transcript pages 2062 -2063).
"If my father were guilty, I would be the first one to say he should go to prison", writes Banks. "I believe that if you commit a crime you should go to prison, regardless of who you are. My father is not guilty of conspiracy, wire fraud, or mail fraud," Banks added. "Their case is about debt", argues Banks. "As a young lady with plans of going to law school I already know that large debt awaits me. After observing my father's situation I would like to pose the question to anyone who would listen, 'If I get in debt while pursuing a law degree, but have trouble paying it back, does prison await me too?' Does being in debt make me a criminal?", ponders Banks. . (http://www.freetheirp6.org/#!A-Daughters-Open-Letter-on-Behalf-of-her-Father/crnp/3FD8B33A-03A1-4734-AB67-924642503BAF)
"Even though they sit in prison today, I am proud to be my father's daughter," says Banks. "I am proud he (David Banks), my uncle Gary Walker, Mr. Clinton Stewart, Mr. Kendrick Barnes, Mr. Demetrius Harper, and Mr. David Zirpolo refused to accept a plea deal. They stood for what is right. I believe that is the most important thing I have learned from my father and the rest of these men. They were in business doing something good by developing software to help law enforcement, but when it all came to a halt after the raid in 2005, I wondered if it was supposed to be like this," concludes Banks. Court records show that the IRP6 argued that following the raid of their business federal agents contacted government prospects informing them of the investigation, raid, an impending indictment, and that they should not do business with IRP Solutions. "I was shocked by what I read in the court documents of how things transpired, but that will only motivate me to be a better attorney," concludes Banks.
To view the entire letter by Kea Banks, visit http://www.freetheirp6.org/#!A-Daughters-Open-Letter-on-Behalf-of-her-Father/crnp/3FD8B33A-03A1-4734-AB67-924642503BAF
The case of IRP Solutions (IRP6) is currently under appeal (US District Court for the District of Colorado, Honorable Christine M. Arguello, D. Ct. No. 1:09-CR-00266-CMA; Case Nos: NO. 11-1487, Case Nos. 11-1488, 11-1489, 11-1490, 11-1491 and 11-1492).
For more information about the story of the IRP6 or for copies of the legal filings go to http://www.freetheirp6.org. Appellate Court panel includes the Honorable Senior Judge Bobby R. Baldock, Honorable Judge Harris L. Hartz, and Honorable Judge Jerome A. Holmes
Related press releases: http://www.a-justcause.com/#!press-release/c21pq