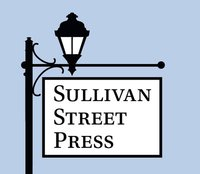 Sullivan Street Press titles will now be offered through Kobo e-bookstore and Ingrams' Print on Demand.
New York, New York (PRWEB) April 15, 2014
Sullivan Street Press announced today the company will be transitioning away from an e-commerce web platform this month to allow for new book formats and marketing of all titles.
Having successfully sold only e-books since its founding in 2009, the company will be expanding its outreach to readers and new writers by using the Kobo e-bookstore and the Ingrams' Print on Demand service. This will allow for all Sullivan Street Press titles to be available throughout the world in both e-book and bound book format.
"As we increased the number of titles we published we became more involved with customer care," Deborah Emin, founder of Sullivan Street Press acknowledged. "While I believe establishing a positive relationship with our customers is important we realized the time spent helping them with technical issues also took up lots of valuable time away from doing the editing and marketing work of the Press."
As small publishers today struggle with the decisions that loom large about the best ways to sell their books, the transition away from e-commerce for Sullivan Street Press makes it easier for their customers to find their books in many different venues.
This summer, the Scags at 7 Video Project, begun in 2012, will be going back on the road. Emin anticipates many of the venues where these tapings will take place will be bookstores. With the changes made to the marketing of the books offered by Sullivan Street Press, Emin will be changing the name of the show to the Sullivan Street Press Itinerant Book Show.
The principals of the company, Deborah Emin and Suzanne Pyrch, estimate that over the two months on the road they will be able to contribute to a major awareness campaign for Sullivan Street Press.
During the project they hope to continue to promote the benefits of digital publishing, while also informing readers of the benefits of print on demand. The print on demand choice is a more environmentally friendly choice that avoids many of the non-sustainable practices currently used by printing books and warehousing them.
About Kobo
Founded in December 2009, Toronto-based Kobo has quickly become a global leader in eReading, offering a world-class platform for the most passionate Readers. Kobo delivers the best digital reading experience to millions of users in 190 countries, offering one of the world's largest catalogues with millions of titles, world-class eReading devices, and top-ranking apps.
About Ingram
Ingram Content Group is the world's largest and most trusted distributor of physical and digital content. Ingram got its start in 1964 as a textbook depository and have since grown and transformed into a comprehensive publishing industry services company that offers numerous solutions, including physical book distribution, print-on-demand and digital services.
About Sullivan Street Press
Founded in 2009, Sullivan Street Press entered the e-publishing domain to change the publishing paradigm. It recognized that for both financial and environmental reasons it was necessary to advocate for the rise of the e-book and the technology that makes all things digital possible. Responding to readers' concerns, many of whom aren't yet ready to commit to the e-book revolution, SSP is now entering into a Print on Demand relationship with the world's largest distributor, Ingrams and their new Sparks program. To maintain its commitment to all things digital, all SSP e-books will now be available in the Kobo e-bookstore. For more information on all the various ways in which Sullivan Street Press is using new technology to reduce pollution and waste in the publishing process, visit its 100% carbon neutral website: http://www.sullivanstpress.com.