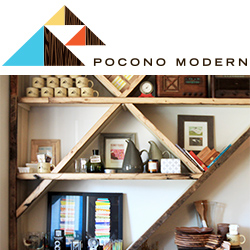 "We are excited to be expanding our brand and adding fresh new products to our line this spring," said Pocono Modern founder Kraig Kalashian.
Jim Thorpe, PA (PRWEB) April 29, 2014
This spring, northeastern design and development firm Pocono Modern will launch new products to spotlight their vintage-inspired home furnishings, accessories and modern homes.
The firm's signature style reflects their passion for a mid-century modern aesthetic reminiscent of an era when life was simpler. From whimsical posters and playing cards to custom furniture and distinct modern homes, Pocono Modern has your home base covered!
Starting with Mother's Day, celebrate mom's home cooking and her passion for vintage Pyrex with Pocono Modern's newest poster, The Collector. The design is an ode to the legion of Pyrex collectors who troll the fleas, hit the antique sales or are lucky enough to inherit their own collection. The poster is 11"x17" and available in a red, gray and blue border.
http://shop.poconomodern.com/collections/home-goods
Another great gift idea for mom (or that June bride-to-be) is the Pocono Modern Retro Pyrex Prints (7"x7"). Simply mod, these prints really let you mix it up! Choose from 12 designs and group them together or feature one alone in that perfect spot of the kitchen or dining room.
Pocono Modern also has dad in mind this Father's Day with their newly designed deck of Playing Cards. Successfully funded through Kickstarter, this ultra-cool deck features a mid-century inspired design of whimsical woodland animals from the Pocono Mountains Region in Pennsylvania. Made in America by the US Playing Card Company, the quality of these cards is unsurpassed and user-friendly with fun colorful illustrations of playful animals; the Elegant Jack, the Foxy Queen, the Bearish King and the Joker Raccoon.
"Our card deck features all original illustrations and is unlike any other deck that you have seen. It is both retro and modern and invokes the spirit of a bygone era while being right at home in the present," says Kalashian. What a cool collection of characters for the whole family to enjoy! Available now to pre-order in time for Father's Day.
http://shop.poconomodern.com/collections/home-goods/products/pocono-modern-playing-cards-pre-sale
On the home front, Pocono Modern will be breaking ground on a new custom home project this spring in Morris County, New Jersey. To see some of the residences and custom furniture, please visit, http://www.poconomodern.com.
Pocono Modern has also launched a new line of custom reclaimed Barn Wood Frames. These rustic style frames are currently featured in a commissioned art installation displayed inside the lobby of The Beach House Resort in Hilton Head, SC. The frames perfectly surround a collection of vintage vacation images exclusively selected from the Pocono Modern Vintage Slide Library.
Visit the newly renovated Pocono Modern Store, located in historic downtown Chester, NJ. In the Village Square, 52 Main Street, Chester, NJ (908-840-4692)