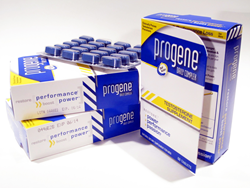 "Entering the contest allows customers to express their Progene® praise in a different and fun way," adds Michael Lee of Progene®. "Poems will be judged by Progene®'s president. Let the writing begin!"
Cincinnati, OH (PRWEB) April 11, 2014
Talk "Testosterone" in poetry?
Progene®'s customers can.
Progene® Natural Testosterone Supplement Announces "Poems About Progene®" a Celebration of National Poetry Month and Progene®'s ten years of helping boost Passion, Power and Performance®.
The grand prize? A 12 month supply of Progene® natural supplement – retail value $400 -- and publication on Progene®'s Facebook page. Now that's poetic.
For years, Progene® customers have been writing Progene® praise on websites from Progene®'s to Costco's. Time to format those words and enter the Progene® Poetry Contest.
Whether in a poem or conversation, it's important to talk the talk of "T". After all, over 55 million men in the US are over 40 and experiencing some degree of natural testosterone loss.
"T" or Testosterone is the naturally occurring hormone that controls the development and maintenance of masculine features and is involved in nearly every tissue of the body.
Testosterone levels peak around the age of 20-30 and begin a steady decline of 1-2% every year thereafter. At lower levels, men may feel all or some of the signs of low-T that include fatigue, weight gain around the waist, low libido, less muscle mass, and even depression. Knowing testosterone levels is vital to staying well and feeling healthy.
http://www.urologyhealth.org/urology/index.cfm?article=132
Talking "T" for over ten years, Progene® continues to lead in the natural supplement category. Winning the "Doctor Trusted" seal of approval, Progene® takes pride in its goal to educate men and women on the subject of low testosterone.
The first step toward finding "T" levels? Progene®'s At-Home Testosterone Test Kit. Quick, easy and designed for confidentiality, the Progene® At-Home Testosterone Kit requires only saliva -- no needles, blood, or bandages. Just spit into the enclosed containers, place in the pre-paid, pre-addressed box that ships to Progene's FDA-approved lab. Levels are ready in 5 – 7 business days.
Now men can easily track how much testosterone they have left, and clearly see for themselves what Progene® natural supplements can do.
http://www.youtube.com/embed/vUdNoDWXJPg
And that's something to write about.
"Physical and mental exercise is important. Entering the Progene® Poetry Contest allows customers to express their Progene® prose in a different and fun way," adds Michael Lee of Progene®. "Poems will be judged by Progene®'s editorial team- let the writing begin!"
There's a Grand Prize with a retail value of $400. That's poetic to a "T".
The Progene® At-Home Testosterone Test Kit and the Progene® natural daily supplement. can be ordered by calling 888-PROGENE (888-776-4363).
Contest Rules: Poems must be the author's original work. All writers must be over 21 and US citizens. Poems must be in English and contain no more than 30 lines. Poems must be received by April 30, 2014- all submissions become property of Progene. Winner announced May 14, 2014 on Facebook. Not responsible for lost or missing entries. Contest has no cash value and cannot be redeemed elsewhere. Any taxes, tariffs or duties is the responsibility of the winner.
Email poems to: poem(at)progene(dot)com.
The contest is open to US citizens except where prohibited. Participation in the Promotion constitutes winners' consent to sponsor's and its agents' use of winner's name and/or hometown and state for promotional purposes in any media, worldwide, without further payment or consideration.
Founded in 2003, Progene® continues to lead the natural supplement market by addressing the decline of testosterone levels in men as they age. With over 20 million tablets sold, the Progene® dual-action formula combines rare botanical extracts and clinically proven precursors, ingredients to help men produce more testosterone – naturally.
Progene® continues to evolve and innovate. Progene® is the only supplement brand in the country with an At-Home Testosterone Test Kit. This provides men the opportunity to actually see for themselves what Progene® can do to help restore their Power, Performance & Passion®.
Progene® is currently sold nationwide at Rite Aid, GNC Stores, Vitamin Shoppe, Costco, Stop & Shop, Bi-Lo Winn-Dixie, USADrug, Drugstore.com, Sears Marketplace, Harris Teeter Groceries, Brookshire's Food & Drug, LuckyVitamin.com, Shopko, Amazon.com and 150 other local and regional retailers.
For more information about Progene® products, call 888-PROGENE, visit Progene.com, or go to facebook.com/800PROGENE.
PR Contact: Judith Hokanson at 513-477-7973.
Still have more questions? Please call Customer Service at 1-866-PROGENE.