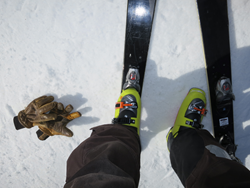 Ski boots are a notoriously difficult product to buy. OutdoorGearLab aims to de-mistify this process.
Cheyenne, Wyoming (PRWEB) April 09, 2014
OutdoorGearLab, an established website specializing in detailed comparison reviews of outdoor hard-goods and apparel, has published the results of their 2014 review of top ski boots. Ski boots are a notoriously difficult product to buy, and an evaluation of performance and fit can be subjective. OutdoorGearLab aims to de-mistify this process through detailed comparison, enabling customers to more easily select the model that will work for them.
Six selected pair of boots were tested in a mondo point size 27.5 with a 120 flex rating so that the tester could accurately note differences in fit and stiffness between brands. The test group included two models of boots classified as adventure/freeride boots that can cross over into use in side-country terrain, while the rest of the tested pairs are dedicated resort skiing boots. The tests were performed by Mike Phillips, a professional ski patroller at Mammoth Mountain Ski Area, California. As a ski professional, Phillips wears boots all day while working, so he rotated through each pair of boots in this test to assess their comfort over the course of a full day. He also performed back-to-back tests on the same ski runs to judge each pair's performance side-by-side. Each model was evaluated for performance on groomed runs and on off-piste powder runs. The boots were scored based on comfort and fit, downhill performance, features, durability, and warmth. After many trials on varied terrain and in a wide range of snow conditions, winners for Editors' Choice, Top Pick, and Best Buy awards were selected from the highest scoring models.
And the winners are:
Lange RX 120
A responsive and well-fitting boot with a 100 mm last, the Lange RX 120 far out-performed the boots in Phillips' test, earning it the Editors' Choice award. This pair fits skiers with medium volume feet right out of the box and the liner can be thermo-molded for a more customized fit. With a traditional four-buckle, overlapping design, the fit is snug, and according to Phillips, allows for a feeling of closeness to the ski. He also notes that the 120 flex of this boot is stout compared to boots with the same flex rating from other brands. This boot is best used by an expert skier who likes to move fast and ski aggressively.
Nordica Hell and Back H2
The Nordica Hell and Back H2 take a Best Buy award for being simple, easy to ski, and available at an affordable price. Mike Phillips states that the flex is predictable and responsive and the stance is upright and comfortable. He notes that these boots drive big skis and also absorb shock on chattery snow. According to Phillips, this model has a roomy fit for a 100 mm last, and accommodates medium-wide feet better than other boots designed for the same volume.
Tecnica Cochise 120
Classified as an adventure/freeride boot, the Tecnica Cochise is designed to be used both in-bounds at the resort and on short backcountry tours or hiking missions just outside a ski area boundary. To allow for this versatile usage, this boot comes complete with a walk mode and replaceable soles that can be swapped with versions compatible with backcountry tech bindings. Phillips states that this boot is exceptionally comfortable and adaptable, and he gives it a Top Pick award for a side-country boot. He notes that this boot is lighter than many other dedicated in-bounds boots, but much heavier than a dedicated backcountry boot. Likewise, it also performs less well than a standard downhill boot, but skis better than most touring boots. According to Phillips, this boot is best used primarily at the ski area with occasional hikes or trips underneath the ropes.
The complete review provides a detailed analysis of all six men's boots tested, and highlights the differences in fit and performance for all models. Additionally, Phillips has compiled a Buying Advice guide that informs readers of the most important considerations when purchasing a new pair of ski boots. He walks readers through the anatomy of boots and then describes in detail how to try on ski boots and find the correct fit. This is an excellent resource for people new to skiing or for experienced snow-sport enthusiasts alike.
Based in Cheyenne, Wyoming, OutdoorGearLab, LLC's mission is to create the world's best outdoor gear reviews. The website, http://www.outdoorgearlab.com, is a free resource for outdoors enthusiasts who enjoy activities such as running, hiking, backpacking, camping, climbing, biking, skiing, snowboarding, and mountaineering. The review team performs thorough side-by-side tests of popular outdoor gear in different categories and publishes the results in comprehensive comparison reviews accented with photos and videos. Each individual product is scored across a range of weighted metrics relevant to that category, competing products are ranked, and awards are given to the top scoring models.