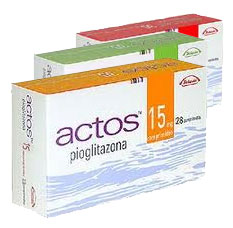 This ruling confirms that, when all the evidence is presented, juries will find that Actos can cause bladder cancer in some patients.
Raleigh, NC (PRWEB) April 13, 2014
The Japanese manufacturer of the diabetes drug Actos and its partner firm, Eli Lilly & Co., have been ordered to pay $9 billion to Terrence Allen, who was diagnosed with bladder cancer after taking Actos. (Terrence Allen, et al. v. Takeda Pharmaceuticals North America, Inc., et al, No. 6:12-cv-00064) The ruling was made April 8th in a federal court in Louisiana.
In the wake of the ruling, the cancer resource information site, Cancer Monthly, is encouraging bladder cancer patients who took the drug to discuss their situation with an experienced attorney as soon as possible.
"This ruling confirms that, when all the evidence is presented, juries will find that Actos can cause bladder cancer in some patients," says Cancer Monthly's Michael Ellis. "If you took Actos and were subsequently diagnosed with bladder cancer you should find out if you have any legal rights." Bladder cancer patients who took Actos and have concerns can click here for more information.
Last year, juries in California and Maryland also awarded multi-million dollars in damages to former Actos users. ( An v. Nieberlein, 24-C12003565, Circuit Court for the City of Baltimore, State of Maryland and Jack Cooper v. Takeda Pharmaceuticals America Inc., CGC-12-518535, Calif. Super., Los Angeles Co.)
Actos, a blood glucose regulator used in people with type 2 diabetes, has been under scrutiny over its link to bladder cancer for years and has carried an FDA warning of the risk since 2008. Although the drug is still being used in the U.S., Actos has been banned in several countries because of its bladder cancer risk.
According to data compiled by Bloomberg, the $9 billion Actos judgment is the seventh largest punitive verdict in U.S. history. Takeda and Lily have said they plan to appeal the ruling. (Feeley, Jef, "Takeda, Lilly Jury Awards $9 Billion Over Actos Risks", April 8, 2014, Bloomberg, http://www.bloomberg.com/news/2014-04-07/takeda-actos-jury-awards-6-billion-in-punitive-damages.html) Bladder cancer patients who have taken Actos are urged to take action immediately by clicking here.
For over ten years, Cancer Monthly has been the only centralized source of cancer treatment results. Patients can see the actual survival rate, quality-of-life indicators, and other key data for approximately 1,500 different cancer treatments. Cancer Monthly provides timely and ground-breaking news on the causes, diagnoses and treatments of the most common cancers including Bladder, Brain, Breast, Colon, Kidney (Renal), Liver, Lung (NSCLC), Ovarian, Prostate and Rectal Cancers, Melanoma, Mesothelioma, and Non-Hodgkin's Lymphoma. Written for patients and their loved ones, Cancer Monthly helps families make more informed treatment decisions.