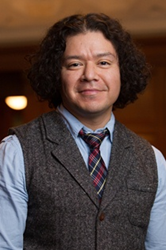 These are adolescents and young adults who grew up most of their lives as Americans and are now struggling to become integrated into Mexican society
Claremont, California (PRWEB) April 09, 2014
William Perez, professor in Claremont Graduate University (CGU's) School of Educational Studies, has launched the first major study into higher education access for undocumented young people who are deported from the United States to Mexico.
Perez, one of the country's leading experts on undocumented youths, will travel to Mexico City this summer to begin identifying and gathering the stories of some of the hundreds of thousands of young people who have become trapped between the immigration policies of the two countries. His research, funded by a grant from the US Department of State's Fulbright Scholars program, will help to initiate binational reforms of broken immigration and education policies and free these young people to make more substantial contributions to both societies.
"These are adolescents and young adults who grew up most of their lives as Americans and are now struggling to become integrated into Mexican society," Perez said. "For those who want to continue on to higher education, the obstacles are significant and the process to validate their US education in Mexico is complicated. They are generally bilingual and have high competences to continue their university studies but they receive virtually no support from Mexican authorities."
The number of Mexican undocumented young adults educated in the United States returning to Mexico, either voluntarily or through deportation, has increased in recent years, taking Mexican educational institutions and the Mexican government by surprise.
For young adults, their return to Mexico is accompanied by a strong sense of frustration and sadness for not having been able to pursue higher education in the US. Their disappointment increases when they try to pursue higher education in Mexico, only to find that Mexican universities will not recognize many US education records.
"This is terrible for the students, but for Mexico it is also a missed opportunity to capitalize on a major source of human capital whose educational cost was paid for by the US," Perez said.
Perez will conduct his research from the Centro de Estudios Sociologicos at El Colegio de Mexico in Mexico City. He plans to collaborate with one of Mexico's most renowned higher education experts, Manuel Gil Anton. Perez has known Gil Anton since 2006, when Gil Anton completed a Fulbright stay at CGU.
Perez is one of the nation's leading experts on the academic achievement, civic engagement, and higher education access of Mexican undocumented students in the United States. His past research has demonstrated that these youth contribute in a variety of ways to the civic vitality of their communities and school campuses, yet those contributions are often misunderstood by the general public and policy-makers.
Perez has published three books in this field: We ARE Americans: Undocumented Students Pursuing the American Dream (Stylus, 2009), Undocumented Latino Students: Their Socioemotional and Academic Experiences (LFB Scholarly Publishing, 2011), and Americans by Heart: Undocumented Latino Students and the Promise of Higher Education (Teachers College Press, 2012).
"His work from the other side of the lens in Mexico will surely make new and essential academic contributions while also continuing to shape the policy dialogue around immigration reform, especially as it relates to undocumented students," said Scott Thomas, dean of CGU's School of Educational Studies.
The Fulbright Program is the flagship international educational exchange program sponsored by the US government and is designed to increase mutual understanding between the people of the United States and the people of other countries. Approximately 1,100 US faculty and professionals will travel abroad through the Fulbright US Scholar Program in 2014 - 2015.
About the School of Educational Studies
Based at Claremont Graduate University in Southern California, the school is one of the top schools of education in California. In addition to its Teacher Education Internship Program, the School of Educational Studies offers PhD and masters degrees in education with emphases in: teaching, learning, and culture; education policy, evaluation, and reform; higher education/student affairs; special education; and urban educational leadership.
About Claremont Graduate University
Founded in 1925, Claremont Graduate University is the graduate university of the Claremont Colleges. Our five academic schools conduct leading-edge research and award masters and doctoral degrees in 24 disciplines. Because the world's problems are not simple nor easily defined, diverse faculty and students research and study across the traditional discipline boundaries to create new and practical solutions for the major problems plaguing our world. A Southern California based graduate school devoted entirely to graduate research and study, CGU boasts a low student-to-faculty ratio.