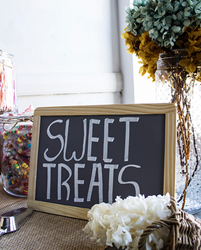 Stay chic but remain savvy with these must have items.
Jamestown, NY (PRWEB) April 11, 2014
Most DIY brides want to throw a unique and lasting event, but don't want to spend thousands on their decor. Afloral.com is most commonly known for their premium yet affordable wedding flowers. But the good news is, their wedding decorations are equally as inexpensive, and still quite impressive.
Wedding Signs
A wedding chalkboard is perfect for an outdoor or rustic wedding. It has that relaxed and at home feel, which is perfect for these types of ceremonies. Write the date of the event, an arrow directing guests where to go, or just a simple love quote on the wedding chalkboard.
Candles
Candles create a certain type of ambiance that no other wedding decoration can. Most DIY brides forget about this simple, yet gorgeous wedding accent.
Vase Filler
Add a touch of colored sophistication to your wedding centerpiece with a diverse range of vase filler. Afloral.com carries quite the variety, from crushed metallic gold to natural colored stones.
Rose Petals
Petals are a traditional and lovely wedding decoration. Scatter a bunch up your wedding aisle, or just a few on each wedding table.
Paper Lanterns
Paper lanterns are perfect for an outdoor evening reception. They add a perfect touch of romance and elegance, without having to try too hard.
For more wedding flowers, wedding decorations, and wedding design ideas, visit Afloral.com.