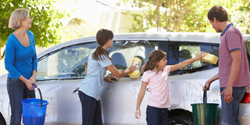 Teach your children about water conservation by washing the family cars at home with Washdrops instead of going to the car wash.
Solon, OH (PRWEB) April 14, 2014
Earth Day is April 22 and what better way to pledge a Green Resolution than to plan a fun green activity with the family. Washdrops® and Cequent Consumer Products have put together a list of activities that aim to reduce waste, recycle, and overall support sustainability:
Composting
Composting makes use of kitchen and garden scraps to create black gold, nutrients for the plants in your garden. Composting also keeps useful, organic waste out of landfills. The setup doesn't need to be expensive; starting a small compost pile in your backyard this Earth Day is the perfect way to teach your children about recycling — nature's way. There are five fun composting activities to do with your family that can be found here: http://www.mykidsadventures.com/five-fun-composting-projects-for-kids/.
Water Conservation
Teach your children about water conservation by washing the family cars at home instead of going to the car wash. The average consumer can use more than 80 gallons of water when washing their car, with runoff flowing into storm drains and polluting nearby lakes, rivers or reservoirs with contaminants. Using Washdrops® requires just one bucket of water to wash any average size vehicle, and at approximately 70 cents per wash, costs much less than a commercial car wash. Washdrops® requires no hose or rinsing at all; the proprietary scientific formula lifts dirt and grime without scratching vehicles or washing away surface wax. After washing the car, you may pour the remaining water on flower beds, grass or down the drain. Washdrops® is a non-toxic solution that will not harm plants or the environment as it is biodegradable, non-foaming, solvent-free, butyl-free, phosphate-free, and ammonia-free.
Check Your Carbon Footprint
If you've ever wondered how much of an impact your family has on the environment, here's your chance to find out. The Earth Day Network site has a Footprint Calculator, a fun and interesting interactive quiz that will show you how your lifestyle affects the planet. Taking the quiz will be an eye opener for you and your children. Once you know the extent of your footprint, explore a few of the suggestions and activities on this list with an eye toward reducing waste and reusing or recycling valuable resources.
Have a Green Family Picnic
If the weather is in agreement, head outside with the family for an Earth Day green picnic! Pick a local spot to support your local parks and recreation. If you can walk or bike to the picnic location, you will save energy and decrease pollution. Use biodegradable or reusable plates, napkins and utensils and compost your trash when you're finished. Take advantage of the location and weather by going on a walk and exploring the location.
Washdrops is having a "Green Resolutions" Contest for a chance to win a Washdrops Prize Package. To enter, participants must become a fan of the Washdrops Facebook page by "liking" the website http://www.facebook.com/washdrops or already be a fan of Washdrops on Facebook. Participants must post a message to the question: What is the biggest step you are taking to help the environment this year? Responses must be submitted by May 10, 2014. Winners will be selected the week of May 11, 2014.
The Earth Day Network encourages families to join A Billion Acts of Green®, an international movement to protect the planet and secure a sustainable future. Initiated on Earth Day's 40th anniversary in 2010, a billion actions were reached April 22, 2012. The momentum continues in an effort to reach 2 billion through the acts of parents, children, individuals, businesses, corporations and organizations all working to reduce carbon emissions and support sustainability.
For more information on Washdrops®, please visit: http://www.Washdrops.com.
Keep up with the latest from Washdrops® on Facebook and Twitter.
About Washdrops:
Made in the USA, Washdrops® is convenient, economical and easy to use! For an average size car, just add one ounce (three capfuls) of Washdrops® to one gallon of water. Now you can wash a vehicle anywhere in minutes without running up water bills or driving to an expensive car wash. Washdrops® really is "the smart car wash solution," plus Washdrops® is biodegradable, non-foaming, solvent-free, and the remaining water can be poured on a lawn or bed of flowers when done. Washdrops® is available in 16-ounce (16 washes), 32-ounce (32 washes) or one gallon (up to 128 washes) sizes and is available on thecequentstore.com and Amazon.com.
About Cequent Consumer Products:
Cequent Consumer Products, Inc. is the industry's leading designer, manufacturer and marketer of innovative consumer goods and automotive aftermarket products. For more than 85 years, Cequent Consumer Products has produced some of the most dependable products on the market including superior quality towing and hitch systems, trailer components and accessories, wiring, lighting and brake systems, cargo securing, cargo carrying, rack systems, as well as household and industrial brooms and brushes. Our established brands are sold through leading retailers nationwide. Our brands are leaders in the industry and include: Washdrops, Reese Towpower, Reese Carry Power, Reese PowerSports, Highland, Aqua-Clear, Laitner, Harper, Rola, Fulton and Bulldog. Cequent Consumer Products is part of the Cequent Americas business unit of TriMas Corporation headquartered in Bloomfield Hills, Michigan. Visit CequentConsumerProducts.com.