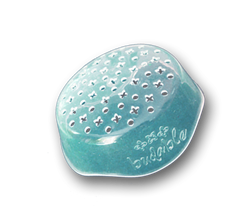 Budable eliminates the need for tapes and foam, holding the design in place even when removing flowers to freshen the water.
Los Angeles, CA (PRWEB) April 11, 2014
Bloomeze Inc, a visionary product development company, launches Budable exclusively at http://www.budable.com. Budable is a flexible, reusable; self-sticking flower arranging vase cap that holds floral designs in place, gripping each stem in its 60 uniquely shaped holes. Made of clean gripping flexible plastic that stretches up to three times its size and molds to fit a variety of vase shapes and sizes.
Budable is a round flexible plastic cap with scalloped edges and 60 holes in the top and it sticks to most anything without adhesives and removes cleanly. When inserted through the holes, flowers hold securely in place without falling, allowing for more flexibility in design. It was created for the home gardener and florist looking for an easy solution for displaying fresh, silk, or dried flowers. Budables are durable, washable, and reusable and can be used for organizing craft supplies. Budable is part of a 3-step design system for home crafters.
"Budable makes it simple for anyone to create beautiful professional designs at home with just one tool." says Bloomeze President, Kathy Kuchta. "It will also hold the design in place, even after removing the arrangement to refresh the water." Budable eliminates the need for tapes and foams that leave a residue and are not reusable. It holds the arrangement in place even after it is lifted from the vase for changing the water and trimming the stems without disturbing the design.
For sales and wholesale information email info(at)budable(dot)com on the web at budable.com. Or contact Kathy Kuchta at bloomeze(at)hotmail(dot)com. (818) 789-6534.