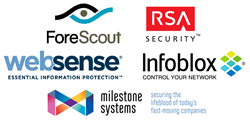 Minneapolis, MN (PRWEB) April 09, 2014
Milestone Systems, Inc., the nation's fastest growing information security and infrastructure provider is pleased to announce new partnerships for 2014.
ForeScout: With ForeScout, organizations can accelerate productivity and connectivity by enabling people to access corporate network resources where, how and when needed without compromising security. ForeScout's CounterACT platform for network access control, mobile security, threat prevention and endpoint compliance empower access agility while preempting risks and eliminating remediation costs.
RSA: RSA, The Security Division of EMC, is the premier provider of intelligence-driven security solutions. RSA helps the world's leading organizations solve their most complex and sensitive security challenges: managing organizational risk, safeguarding mobile access and collaboration, preventing online fraud, and defending against advanced threats.
WebSense: Websense, Inc. is a global leader in protecting organizations from the latest cyberattacks and data theft. Websense® TRITON® comprehensive security solutions unify web security, email security, mobile security and data loss prevention (DLP) at the lowest total cost of ownership.
Infoblox: Infoblox delivers essential technology to help customers control their networks. Our patented Grid™ technology helps businesses automate complex network control functions to reduce costs and increase security and uptime.
Milestone Systems is a 13-yr old firm headquartered in Minneapolis, MN with offices in major cities across the US. Milestone focuses on securing enterprise networks, the lifeblood of business – from cyber-attacks and other modern threats that can put businesses at risk.
Along with providing leading-edge hardware and software, Milestone helps Fortune 1000 organizations across the US with support services including: certified training, project management and consulting, managed services, security assessments, infrastructure architecture design, and 24x7x365 technical support.