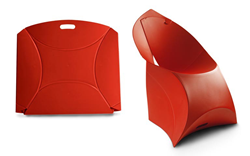 Their chair was the best item I have seen at Global Shop in years.
Tustin, CA (PRWEB) April 09, 2014
Displays & Exhibits, Inc. (D&E), a division of Absolute Exhibits, a major force in the trade show exhibit building industry, is bringing a new line of flexible furniture named ümlot, to the trade show floor. These products are the very essence of simplicity. These furniture pieces which include chairs, podiums, bar height tables, pedestals, and bar stools, are craftily cut from one piece of flexible, sustainable and weatherproof polypropylene and require no tools for assembly. The products have incredible style and flair and a uniquely colorful, fun style that personalizes any environment. They may be used indoors or out, they come in a variety of colors and they can be customized with graphics printed on them for exceptional business-to-business marketing opportunities.
Originated in Holland by two young Dutch designers for the furniture industry, the original chair garnered major design awards and legions of fans following its introduction. The chair looks like a giant envelope and transforms into a true designer chair. It features rounded edges and is available in eight lively colors. One look by Peter Holman, the D&E director of sales, and he was hooked, "Their chair was the best item I have seen at Global Shop in years, a real stand-out for the trade show industry. Their products will add unbelievable style to any exhibit, giving it a great finishing touch. The product line has everything I look for in my online offerings – lightweight but sturdy, it's chic, and let me tell you, that chair is comfortable!"
D&E provides a full warranty covering manufacturing and material defects of the flexible furniture products purchased online for a period of one year, beginning on the date of the client's receipt. The warranty covers damage that is not caused by accident or inappropriate use, wear and tear. D&E has a full range of exhibiting materials and accessories to define a professional appearance on the trade show floor, including slatwall panels, hanging signs, iPad kiosks, pop up walls, and more to accommodate any size exhibit space. Visit http://www.displaysandexhibits.com or call (888) 282-8858 for further help.
About Displays & Exhibits
Displays & Exhibits is a division of Absolute Exhibits. Established in 2000, Absolute Exhibits began as a portable/modular distributor, and now rents large custom exhibits at over 300 shows in the USA and in countries around the world.
Displays & Exhibits was created to serve the needs of first-time exhibitors, seasoned exhibitors that go to multiple local, regional, national and international shows and clients that do community work, in-house events, fairs, and festivals. The company offers portable banner stands, display boards, digital kiosks, display lights, display signage, and exhibit furniture.