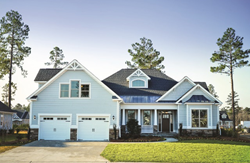 New Homes Grand Reveal This Weekend in Wilmington North Carolina
Wilmington, NC (PRWEB) April 10, 2014
A magician may never reveal his secret, but a certain North Carolina coastal community is ready to reveal the success to their success! Real Estate Scorecard is excited about one of the leading master-planned communities in Wilmington, NC opening its doors to show off new trend setting homes built by two award winning builders, Bill Clark Homes and Logan Homes. While the Wilmington NC real estate is one of the hottest markets in the Southeast, its lakeside neighborhoods like The Hammocks at Shelmore that make folks quickly feel at home.
The 2014 Ideal Home Grand Reveal is scheduled for April 11-13, 2014 and the community is excited to see what Brunswick Forest is up to next. One of the most renowned builders in the area and a preferred home builder of Brunswick Forest, Logan Homes is the master behind the revealing of the The Amelia II Home. Logan Homes also earned a spot on the list of "Top 10 Builders" in Brunswick County for 2010, 2011 and 2012. With these awards and credentials, The Amelia II home is expected to be a best-seller and Logan Homes is proud to showcase their work.
The Amelia II Home will spotlight the unique style of Logan Homes craftsmanship and include the most upscale customized features in the builder's Jewel Collection. The new home is 2,477 sq. ft of luxury and is complete with a screened porch, three bedrooms, two bathrooms and a front porch that stretches the length of the home entrance. Features include French-style windows, wood floors, decorative ceilings and crown molding, spacious kitchen connecting to the great room and an enclosed patio with walls of windows.
The next home that is making its introduction to the Wilmington NC real estate market is The Adelaide. This light filled 2,628 square foot three bedrooms, three baths coastal design was created by Bill Clark Homes. The cottage home includes a built-in fireplace and entertaining gourmet kitchen. Bill Clark Homes won the award as the fastest growing home builder in the nation in past years and is moving up in the list of the Nation's Top 100 Homebuilders. With three bedrooms, three bathrooms, a walk-in closet and master-suite that is fit for a king, this design is perfect for retirees who want enjoy a touch of luxury with their relaxed lifestyle. Features include tall ceilings, wood floors, oversized ceramic tile flooring, outdoor living room with fireplace and windows positioned everywhere in the home to capture the beautiful sunlight.
Along with these two home revealings, Brunswick Forest is also sharing news about its Neo-Traditional Style Homes in the Shelmore neighborhood. Shelmore is one of the Wilmington pet friendly neighborhoods that can be described as simple and sweet. White picket fences line each property, front porches welcome visitors with a classic and cliche southern charm and the bungalow-style homes are nestled closely to a three-acre lake. This picture-perfect setting includes a sparkling, sandy beach and manicured walking trails to start and end the day in bliss.
Take a peek at Brunswick Forest homes
This North Carolina coastal community offers residents a variety of amenities like:

18-hole Championship Golf Course Designed by NC Native Tim Cate
Golf Clubhouse with Restaurant and Bar
18,000 Square Foot Fitness & Wellness Center
Indoor and Outdoor Swimming Pools
5 Hard Surface Tennis Courts and a Sport Court
Comprehensive Fitness Center with Lounge
Community Parks and Gardens
100+ Miles of Walking, Biking and Nature Trails
Canoe, Kayak and Small Boat Launch
Brunswick Forest is just a short drive to the Historic Downtown Wilmington lined with award-winning restaurants, intriguing shopping and the beautiful Cape Fear River.
Contact Brunswick Forest direct at 888.371.2434 or email for more information about the 2014 Ideal Home Grand Reveal.
In case buyers miss this weekend's event, both Ideal Homes will be available to see throughout 2014. Just say 'yes' and accept Brunswick Forest's warm welcome offered through the Brunswick Forest Discovery Package.
About Real Estate Scorecard:
Real Estate Scorecard writes unbiased real estate reviews providing in-depth information about popular gated communities in Florida, Georgia, North Carolina, South Carolina and Tennessee, all in an effort to help people discover where to retire in the Southeast.
Website: http://realestatescorecard.com