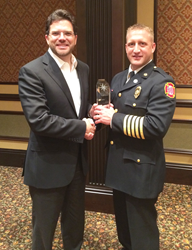 Orange Beach, AL (PRWEB) April 09, 2014
"Ever since I was a young boy, I always wanted to work within the fire service. In fact, if you look within my high school yearbook, there is a comment that I placed where it states that I would love to play guitar like Eric Clapton, but I would probably end up working within the fire department."
Today, that prophecy rings true for Baugo (Ind.) Fire Chief Chad Carey, who was just named the 2014 DETC Outstanding Graduate for CSU.
CSU Admissions, Marketing and Outreach Vice President and veteran fire officer Billy Hayes said Carey is a worthy choice for the DETC honor.
"He is a great leader in the Indiana fire service. He is an ambassador for the fire service and also for CSU," Hayes said.
The 39-year-old entered his beloved field of fire service 1994 as a volunteer at Baugo Fire Department in Indiana. As he progressed in the ranks, Carey wanted an online bachelor's degree in fire science to improve his career options and knowledge.
"In 2009, I was searching for a way to further my education within the fire service—whether it was Internet or fire journals—in order to pursue higher positions. During the search, I came across CSU which met the demand, needs and goals of my busy life," said Carey, an Elkhart, Ind., native.
After enrolling in CSU, Carey worked at the Baugo Fire Department and as a captain on a medic/engine company at the nearby Elkhart Fire Department. He maintained both jobs and a 4.0 GPA with CSU. During the final phase of his degree, Carey applied and was hired as fire chief of Baugo Fire Department in 2011 where he had been named Fire Officer of the Year twice.
He credits much of promotion to fire chief to his CSU bachelor's degree in fire science.
"As I tell any firefighter, or others in which I have the ability to influence, the only way to further succeed within your passion or goals is to obtain the education that is necessary. CSU has given me that education and I know it will deliver the same to any others who strive to succeed," he said.
Upon graduating with honors in 2012 from CSU, Carey was soon accepted to the Executive Fire Officer program at the National Fire Academy, a longtime goal. After completing his bachelor's, Carey enrolled with CSU to obtain a master's degree in business administration with a concentration in public administration. He completed the degree program in February 2014 and uses the knowledge to aid him in his administrative duties as a fire chief.
CSU offers online associate, bachelor's, master's and doctoral degree programs in various fields including criminal justice, fire administration, occupational safety and health, and business administration. If you would like learn more about CSU, please visit http://www.ColumbiaSouthern.edu.