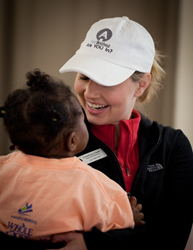 It's how you deal, not what you're dealt.
Austin, TX (PRWEB) April 16, 2014
Inspirational website BeGreaterThanYou.com (B>U) recognizes Courtney Clark as B>U's "Feature of the Month". Clark, who resides in Austin, TX, is a national author, speaker and self-proclaimed optimist.
Clark's journey began when she was diagnosed and beat Melanoma cancer at the age of 26. She then had a brain malformation five years later in 2011.
The brain aneurysm, which showed no symptoms, could have ruptured at any time. She underwent a series of brain surgeries to remove the malformation.
These life experiences led her to become involved in charities and pursuing philanthropy as a degree and profession. She uses those experiences as the premise of her new book "The Giving Prescription".
"The Giving Prescription" is based on the concept of helping others as a pathway for one's own healing from a traumatic event. It poses 8 questions to help an individual find the best path to recovery and using philanthropic causes as a part of the healing process. The book was released this February and can be purchased through Amazon and BN.com.
"Listen to her life and message and it's obvious she epitomizes the B>U philosophy of a greater self for a greater world. We are honored to name Courtney as B>U's Feature of the Month," proclaims Richard May, B>U co-founder.
Clark continues her speaking engagements, counseling and professing her mantra of "It's how you deal, not what you're dealt".
About B>U:
BGreaterThanU.com offers lifestyle tips and inspirational stories about individuals being greater than themselves for a greater world.