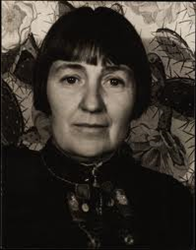 "Debrianna's characterization of Georgia was beyond my expectations." Mark Gordon, writer /director "Awakening in Taos," after Mansini's performance of O'Keeffe.
Santa Fe, NM (PRWEB) April 11, 2014
"Awakening in Taos" is being produced by an independent Santa Fe based film company headed by Kathleen Peters and her business partner, writer/director Mark Gordon. Mabel Dodge Luhan, the center of the story, was a powerful advocate of modernism. Mabel arrived in Taos, NM in 1917. Following on the heels of publicity generated by the Taos Society of Artists, Dodge became the next great publicist for Taos. Her writings came to the notice of New York modernist art critic, Henry McBride, who credits her with putting Taos on the map. She also wrote the first discourse on the Taos artists, entitled "Taos and Its Artists (1947)." Mable was a force in the art world when women were generally not recognized and indeed, her incredible mark on a generation of artists has had little coverage. Her story is as much an important piece of early feminism as it is a piece of American art history.
Much of the story comes directly from the writings of Dodge Luhan. Her journey from New York to Taos is quite an adventure, personally and artistically. The socialite was married when she arrived in Taos, but met her great love, Tony Luhan, after she arrived. The alleged affair between O'Keeffe and Tony Luhan will not be shied away from in the film. The actual letters between Mabel and O'Keeffe revealing this stormy period in Mabel's life will be highlighted, showing both Dodge Luhan and O'Keeffe to be real people, not simply historical figures.
Social Media Director Carole Baker says, "When I first saw the complete Chapter Three video I was moved to tears. This project has heart...a huge heart. I am honored to work with Mark Gordon, the writer /director and the rest of his fabulous team. Running the social media streams for the movie project has been a dream come true. I am fascinated by the love story between Tony and Mabel. I can't wait to see the film completed!"
The film project has attracted the attention of several great film icons. Ali MacGraw has signed as the narrator for the project with Marsha Mason slated to play Mabel Dodge Luhan. New Mexico actor Debrianna Mansini will be the voice of O'Keeffe. Mansini was discovered during a staged reading at the O'Keeffe museum last December, where she read the letters between O'Keeffe and Stieglitz. "Debrianna's characterization of Georgia was beyond my expectations," said Mark Gordon, writer /director "Awakening in Taos," after Mansini's performance of O'Keeffe.
This website explores a video project intended for PBS distribution that is currently raising completion funds. It is about the evolution of Women and Native American rights, and the beginnings of the Global Contemporary Art and Photography Market. The mystery of the Luhan story did not escape the vision of the famed George RR Martin, author of Game of Thrones. Martin, who recently renovated the Jean Cocteau Cinema, lent the theater space for one of his first screenings to the Awakening in Taos project. The showing of episode three was able to raise a significant amount of funds toward the completion. The last phase of fundraising is the Indiegogo campaign, not unusual for independent projects.
This New Mexico based film, already slated to be distributed by PBS, has just launched its Indiegogo campaign for finishing funds, not unusual for getting independent film projects off the ground. Mansini notes,"Drunktown's Finest," a Sundance selection for 2014 that I was cast in last year, also finished via Indiegogo, even though it was executive produced by Robert Redford. Drunktown is now on its way to London Sundance. Maybe I am a good luck charm for this project. I know I am thrilled to be working on it."
About Debrianna Mansini: Debrianna Mansini (represented by O Agency) is an actress who combines her talent with activism. She is deeply concerned with using the voice of her craft to shed light on women and social justice issues. Her NY roots and training live with her in New Mexico, her enchanted home base, along with her husband, accomplished artist David Forlano. http://www.debriannamansini.com