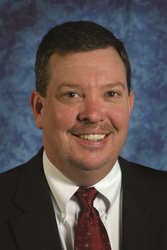 I am honored to have the opportunity to lead a progressive and successful association...
Eagan, MN (PRWEB) April 11, 2014
Stephen R. Colyer, senior director of gas operations and services for the Ameren Illinois Company, has been elected as the new chair of Midwest ENERGY Association's (MEA) Board of Directors. Colyer is responsible for gas transmission and distribution engineering and operations, gas planning, transmission and distribution integrity management, gas storage engineering and operations, pipeline safety compliance, apprentice training and operator qualification, system control room operations, and Illinois Fleet Services.
"I am honored to have the opportunity to lead a progressive and successful association for the coming year," says Colyer. "Midwest ENERGY Association will continue its focus on providing education, training, and products that help energy delivery companies provide safe, efficient, and reliable gas and electric service to customers."
2014-2015 Officers:
MEA Chair – Stephen R. Colyer, Sr. Director, Gas Operations and Services, Ameren Illinois Company
MEA First Vice Chair – Vincent G. Dow, Vice President, Distribution Operations, DTE Energy
MEA Second Vice Chair – James M. Conway, Vice President, Customer Field Operations, ComEd, an Exelon Company
MEA Treasurer – Dennis M. Klumb, Jr., President and CEO, KS Energy Services, LLC
MEA Secretary – Patrick Van Beek, President, MEA
MEA Past Chair – John M. Yogerst, Assistant Vice President, Gas Operations
MEA Executive Committee Delegate – Annette Gardiner, P.E., President, New Mexico Gas Company
MEA Executive Committee Delegate – Gary L. Gibson, Director of Distribution, City Utilities of Springfield
About MEA:
MEA serves the people that delivery electricity and natural gas to homes and businesses. MEA (Midwest ENERGY Association) was founded as a trade association over 100 years ago by distribution utilities, whose vision was to improve safety and efficiency. Today, utility companies around the globe benefit from MEA's industry learning seminars, operations summits, and other events. Members collaborated to develop EnergyU, the world's premier online training and testing system for gas and electric distribution utilities.