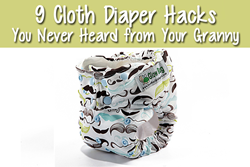 Barrie, ON (PRWEB) April 09, 2014
Glow Bug Cloth Diapers co-founder Sarah Downey has released a list of cloth diaper hacks as a blog post on Glow Bug Cloth Diapers' blog. The post includes a list of many things to use to make cloth diapers easy including diaper sprayers and how to line dry your cloth diapers without a clothes line. The greatest concern the average parent has about cloth diapers is how difficult they may be. Parents who are looking into cloth vs. disposable diapers will be able to learn tricks from this article on how to make cloth diapers as easy as possible. To read the full article on Glow Bug Cloth Diapers' website, click here.
Glow Bug Cloth Diapers is based out of Barrie, Ontario and has been in business since early 2011 manufacturing and selling cloth diapers. Glow Bug Cloth Diapers us best known for offering cloth diapers that are high-quality, easy to use, fashionable and affordable. Glow Bug Cloth Diapers fit babies from newborn to potty training so you never have to buy diapers again, making them high-quality yet cheap cloth diapers.