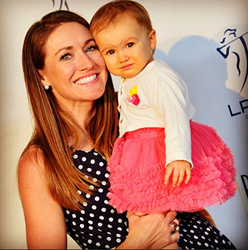 Taylor is very excited to be a big sister and we're so happy to welcome a second child to our family.
Oahu, HI (PRWEB) April 16, 2014
Loving Moments by Leading Lady SpokesMom and Pro golfer Danah Bordner is gearing up to compete in her next LPGA tournament and has exciting news to share with our nursing moms' community—she and husband Steve Bordner are expecting baby number two! Danah's first child, daughter Taylor, will step into her big sister role this August. Congratulations to the Bordner family from all of us at Loving Moments by Leading Lady.
Danah competes professionally on the LPGA tour and will continue to compete until early May. We'll be cheering Danah on at the LPGA Lotte Championship starting April 16th in Kapolei Oahu, HI on the Ku Olina Golf Club's beautiful course. Danah is planning on taking a break from golf after this competition so she can focus on her pregnancy and family before the baby arrives.
How is Danah's daughter Taylor taking the new baby news? Danah shared that, "Taylor is very excited to be a big sister and has learned to say the word 'baby' while pointing at my belly!" Taylor is almost 18 months old and joins her mom at golf tournaments when possible. Danah serves as a breastfeeding ambassador for Leading Lady's Loving Moments nursing bras and maternity clothes line.
Best of luck on your upcoming tournament, Danah! Loving Moments by Leading Lady is proud to sponsor such an amazing mom and athlete. When Danah returns to the tour she will continue wearing the Loving Moments brand nursing bras to keep her comfortable and supported while competing. We look forward to watching her return and wish her the best of luck in the LPGA Lotte Championship sponsored by J Golf.
About Loving Moments
Loving Moments by Leading Lady offers new and expectant moms affordable and comfortable maternity clothes and nursing bras available only at WalMart and Walmart.com. Loving Moments celebrates a mom's expanding family and encourages the important bond between a mother and her baby. With all of mom's needs in mind, Loving Moments provides the right nursing bras to encourage successful, rewarding breastfeeding. For more information and to view products, visit http://www.lovingmomentsbras.com.
About Leading Lady
Leading Lady recently celebrated its 75th anniversary serving the intimate apparel market. We proudly offer the best bras for both curvy women and nursing moms. Leading Lady is an advocate for breastfeeding and is committed to providing nursing moms with the most comfortable, supportive nursing bras in the market. Visit http://www.leadinglady.com for additional information.