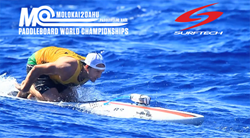 Santa Cruz, CA (PRWEB) April 10, 2014
Surftech is honored to announce its long term partnership with the Molokai-2-Oahu Paddleboard World Championships. Surftech, a leading surfboard, stand up paddleboard and paddleboard manufacturer, will be the official board sponsor of the 2014 Molokai-2-Oahu Paddleboard World Championships.
Collaborations such as this, with a prestigious event like the Molokai-2-Oahu Paddleboard World Championships, is a natural and very exciting fit for Surftech. "Every board we make is developed with performance in mind, so to showcase our brand and boards at the world's premier paddleboard race, is an incredible opportunity for us," said Duke Brouwer, Surftech Marketing Director. "We are honored to be working with the M2O and we look forward to this being the start of a long and successful relationship."
Surftech, which was founded in 1989 by board designer Randy French, celebrates its 25-Year Anniversary building advanced composite surfboards, paddleboards and stand up paddleboards in 2014! "We couldn't think of a better way to celebrate this 25-year milestone than by supporting the Molokai-2-Oahu Paddleboard World Championships and the passionate and determined group of athletes who choose to take on the "Channel of Bones" each year," said company founder, Randy French.
"We are absolutely thrilled to have the support of Surftech and their team at the 2014 Molokai-2-Oahu Paddleboard World Championships," said Mike Takahashi, M2O co-founder and race director. "Surftech's support for this historical race truly demonstrates their commitment to our paddling community and the future of paddleboarding. Their products include both prone and stand up paddle boards, both categories an integral part of our event."
With just under four months left until the highly anticipated event, Surftech/Bark team riders including Morgan Hoesterey (Women's Stock SUP), Matt Becker (Men's 14' SUP), Leane Darling (Women's UL Paddleboard), Savannah Shaughnessy (Women's Stock Paddleboard), Jack Bark (Men's Stock Paddleboard) Alison Riddle (Prone Relay) and defending stock paddleboard champion Zeb Walsh, are in the midst of their training and are driven and determined to push themselves to new heights in the channel this year.
Surftech couldn't be more excited about our involvement with this year's M2O and wish all of the competitors and race organizers the best of luck and safe crossing on July 27th!
About the Molokai-2-Oahu Paddleboard World Championships
The 18th edition of the Molokai-2-Oahu Paddleboard World Championships (M2O), presented by Kona Longboard Island Lager, is set for Sunday, July 27, 2014. Founded in 1997, M2O has grown from a grassroots challenge for the legendary lifeguards and watermen of Oahu to the premiere event for the sport of paddleboarding, annually crowning world champions in the two disciplines of prone (traditional) and stand-up paddleboarding (SUP). Connecting the islands of Molokai and Oahu, the 32-mile race crosses the Ka'iwi Channel, also known as the Molokai Channel. Men and women from more than 20 countries will face strong currents as they navigate the fastest downwind route over one of the deepest channels in the world. Top athletes can complete the crossing in less than five hours, riding mid-channel waves that can crest more than 12 feet and carry paddlers hundreds of meters at a time. M2O starts on Kaluakoi Beach on the north shore of Molokai and finishes in Maunalua Bay on the south shore of Oahu. The annual race is a deeply personal experience, challenging every paddler's physical and mental endurance. Every finisher experiences an individual championship.
ABOUT SURFTECH
In 1989, Randy French, a leading surf and windsurf board shaper, founded Surftech to bring Tuflite, a dynamic, durable and lightweight composite construction material, from the windsurf industry to surf. Today, in partnership with many of the world's leading board designers, Surftech offers a wide variety of high performance surf and stand-up paddleboards to customers worldwide. In 2014 Surftech celebrates it's 25th Anniversary manufacturing surfboards and paddleboards!
For additional information contact:
Duke Brouwer
duke(at)surftech(dot)com