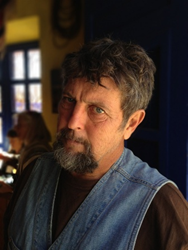 Nabhan has been honored with the John Burroughs Medal for Nature Writing, a MacArthur 'genius' award, a Lannan Literary Award, a Pew Fellowship in Conservation and Environment and a Lifetime Achievement Award from the Society for Conservation Biology.
Easton, PA (PRWEB) April 10, 2014
Internationally-acclaimed nature writer and food and farming activist Gary Paul Nabhan will present "Sustaining Food Security amidst Climate Uncertainty and Pollinator Decline" at Lafayette College on Tuesday, April 15.
The 7:30 p.m. lecture in room 224 of Oechsle Hall is free and open to the public. A reception will follow in the lobby.
Nabhan is a proponent of conserving the links between biodiversity and cultural diversity. He has been honored as a pioneer and creative force in the "local-food movement" and seed saving community by Utne Reader, Mother Earth News, New York Times, Bioneers and Time magazine.
As the W.K. Kellogg Endowed Chair in Sustainable Food Systems at the University of Arizona Southwest Center, he works with students, faculty and non-profits to build a more just, nutritious, sustainable and climate-resilient food shed spanning the U.S./Mexico border. He was among the earliest researchers to promote the use of native foods in preventing diabetes, especially in his role as a cofounder and researcher with Native Seeds/SEARCH. Gary is also personally engaged as an orchard-keeper, wild foods forager and pollinator habitat restorationist working from his small farm in Patagonia, Arizona near the Mexican border. He has helped forge "the radical center" for collaborative conservation among farmers, ranchers, indigenous peoples and environmentalists in the West.
He played key roles in establishing the Ironwood Forest National Monument, community-based seed banks, land reserves for conserving wild crop relatives, and restored habitats for migratory pollinators throughout the West.
Agricultural historian Peter Hatch of Monticello has called Nabhan "the lyrical scholar of genetic diversity." As an Arab-American essayist and poet, he is author or editor of 24 books, some of which have been translated into Arabic, Spanish, Italian, French, Croation, Korean, Chinese and Japanese. For his creative writing and its influence on community-based conservation, he has been honored with a MacArthur "genius" award, a Lannan Literary Fellowship, a Southwest Book Award, the John Burroughs Medal for nature writing, the Vavilov Medal, and several honorary degrees and lifetime achievement awards.
Nabhan works most of the year as a research scientist at Tumamoc Hill and the Southwest Center of the University of Arizona, but he is also engaged with several food-justice and farming alliances. He is also a professed Ecumenical Franciscan brother, helping the Franciscan Action Network in shaping ethical responses to environmental injustice, to immigration issues and to climate change.
His visit is sponsored by the Environmental Science and Environmental Studies Program at Lafayette.
###
--------------------------------------------
Lafayette is a top liberal arts college with 2,400 students and 215 full-time faculty that offers a wide variety of undergraduate degree programs including engineering. With close proximity to New York City and Philadelphia, Lafayette has one of the highest endowment-per-student rates in the nation. This means ample resources to fuel student research, and provide opportunities for study abroad, internships and field work. It means outstanding facilities, Division I sports, funding for 250 student groups on one of the most beautiful campuses in the country.
--------------------------------------------
Photo credit: Dennis Moroney
Kathleen Parrish
Associate Director of Media Relations
Lafayette College
Communications Division
Easton, PA 18042
Follow us on Facebook and Twitter @LafCol.