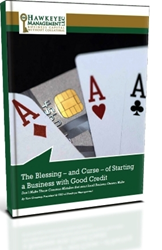 Blackwood, NJ (PRWEB) April 29, 2014
Hawkeye Management announces how having a great credit profile while starting off a small business can be an advantage as well as a disadvantage. The small business loan and working capital business has created a really helpful and informative report. This information is incredibly insightful in regards to prospective small business owners who want to acquire small business financing effectively.
Predicament:
While starting a small business, small business owners have to accumulate credit and a respectable credit score. Numerous business owners begin a small business using an absence of comprehension of what a proper credit score is along with applying for the right type of small business financing. A handful of small business owners don't realize how important obtaining capital is to a small business. Commonly, it is more painful if a small business owner has excellent credit and he/she believes the business has loan options that honestly do not exist. Business owners can be captured in this mindset by making objectionable decisions, acquiring the wrong credit card financing, along with minimizing the capability to acquire additional capital which allows the small business to grow.
Problem:
Probably the most frequent problems encountered by small businesses will be that small business owners will borrow money and employ credit cards the wrong way. This is what an incredible number of small businesses have done wrong. Ironically, the problem may be more painful for individuals that begin the company using a powerful credit profile.
Result:
When a small business owner starts a business with excellent credit and avoids the common mistakes made by most business owners, the business can obtain business funding with no collateral, no financials, low rates, and – most importantly – a small business owner can protect and preserve the businesses excellent credit. This makes it much easier to obtain financing like SBA loans and working capital later after the business has grown.
To read the full report on the Blessings and Curses of Starting a Business with Good Credit click here.
Hawkeye Management connects entrepreneurs and small business owners with $50,000-150,000 or more in freely spendable business credit lines. They specialize in helping small business owners obtain low-cost financing without pledging collateral. Hawkeye Management knows what does and doesn't work, and how small businesses can get the credit they needs as quickly as possible.