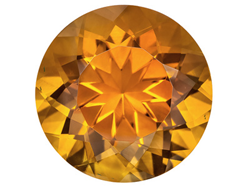 Our highly experienced graduate gemologists canvas the globe in search of new and rare finds.
KNOXVILLE, Tenn. (PRWEB) April 09, 2014
Jewelry Television® (JTV), the world's largest retailer of loose gemstones, is rolling out the red carpet for rare colored stones this week during Gem Days. The network-wide event runs from April 10-13, 2014 and features an expanded assortment of precious gemstones, and includes the debut of the retailer's latest proprietary collection, La Capilla Citrine™.
Discovered in the same Uruguayan mine as JTV's La Capilla Amethyst™, these intoxicating gems begin life as amethyst but become Madeira citrine after a carefully monitored heating process. Each gem is handpicked and named for its crystal formation resembling the tall steeples of the region's numerous chapels. La Capilla Citrine™ is then transported to Brazil to be fashioned into stunning gemstones by renowned Brazilian lapidaries. Each gem embodies the deep golden colors of the world's finest Madeira citrine, enhanced by the most skillful cutting and polishing.
Many rare gemstones will be featured during Gem Days, including:

Colombian Emerald
Sphalarite
Imperial Topaz
Mozambique Tourmaline
"JTV has been on the forefront of opening the world of exotic gemstones to collectors and gemstone enthusiasts for more than 20 years," said Jill Johnson, vp of marketing for Jewelry Television®. "Our highly experienced graduate gemologists canvas the globe in search of new and rare finds, many of which are available only through JTV."
Tune in for a rare glimpse into 'The Vault from Jewelry Television®,' on April 10 from 10:00-11:00 p.m. eastern time. This gemstone show will feature high-end, large specimens that are one-of-a-kind and prestigious to own.
JTV offers more ways to shop. Check your local television listings, shop online at jtv.com or download free mobile shopping apps for the iPhone, Android, and iPad.
About Jewelry Television®
Jewelry Television® (JTV) is one of the largest multichannel retailers of jewelry and gemstones in the U.S. appealing to fashion-conscious women, jewelry-making enthusiasts and private collectors. The privately-held shopping network broadcasts high definition programming, 24 hours a day, seven days a week, to nearly 85 million U.S. households. Committed to consumer education, the network employs numerous Graduate Gemologists and Accredited Jewelry Professionals. JTV.com offers the most comprehensive jewelry and gemstone Learning Library on the internet, and is the third largest jewelry website according to Internet Retailer's Top 500 Guide for 2012.
# # #