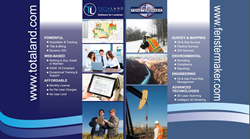 (PRWEB) April 09, 2014
TotaLand Technologies and Fenstermaker, its parent company, will be in Pittsburgh, Pennsylvania, from April 9-11 to participate and exhibit at the 2014 NAPE East Expo. This marketplace event of the North American Prospect Expo, the world's largest E&P upstream trade show, kicks off on Wednesday to provide thousands of oil and gas attendees three days of prime buying, selling and networking opportunities. This year's NAPE East also marks the first time Fenstermaker and TotaLand will unite to co-exhibit from the same platform (Booth #736).
An established multi-disciplinary consulting firm founded in 1950, Fenstermaker acquired TotaLand Technologies, a start-up software company, in January 2012. Devised by Bill Justice, a former landman, in 2004, the innovative business quickly evolved to become one of the most advanced field management systems. A veteran and proponent of the land industry, Mr. Justice decided to shift his focus after experiencing mounting frustration over the tedium and redundancies he encountered in the field. He ended his career as a practicing landman to concentrate on developing a solution that would eliminate the inefficiencies within his profession and streamline the overall process.
A strong advocate for new technology, Fenstermaker has always been a leader in adopting new means of enhancing its services to clients. The company's expertise began in survey and mapping before diversifying to encompass engineering and environmental disciplines. In 2007, the Advanced Technologies Group was formed to offer specialized services in laser scanning, 3D modeling, dimensional control and underwater acoustic imaging (UAI). Noticing TotaLand's unique and cutting-edge system, Fenstermaker approached TotaLand about a partnership that would broaden and enhance both companies' operations.
With his career centered on oil and gas activities, Bill Justice was familiar with Fenstermaker's long, respected history of successfully serving various energy clients. Having also crossed paths with their teams during past projects in the field, he had held the company in high regard. As its active Founder and President, Mr. Justice was pleased to see TotaLand join Fenstermaker as a wholly owned subsidiary and expand his software's progressive approach to land work with their support.
Team members from both companies are eager to showcase the advantages of TotaLand's leading software and Fenstermaker's comprehensive services for the land industry at NAPE East. Bill Justice and Chad Landry (Director of Training and Support) will represent the TotaLand team while John Fenstermaker (Vice President of Survey & Mapping), Jane Fournet (Lafayette Environmental Operations Leader), and Jarrod Hughes (Senior Environmental Specialist) will attend on behalf of Fenstermaker. Participants of the Pittsburgh, PA, NAPE expo are encouraged to visit Booth #736 to learn more about TotaLand's web-based solution for landmen and sign up for a risk-free trial, as well as visit with Fenstermaker experts to discuss the latest developments and services in support of the energy market.