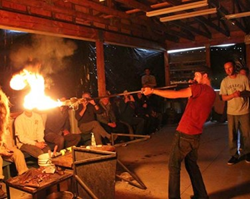 See an amazing glassblowing demonstration and learn about local history while taking a professionally-guided garden tour.
Skagway, Alaska (PRWEB) April 23, 2014
For cruise ship passengers and independent travelers, who are vacationing in the Alaskan Panhandle, Jewell Gardens' new website provides a rich history about Skagway, Alaska and highlights the site-seeing attractions at Jewell Gardens and Garden City Glassworks.
Tourists who visit Jewell Gardens can learn about the Yukon's gold mining history, meander through the beautiful gardens, take a glassworks tour, or participate in the only public glassblowing class in Alaska, and enjoy a delicious lunch at Poppies, the Garden Restaurant.
"We get visitors fresh off the cruise ships, but occasionally we get some independent travelers—and it made sense to give these vacationers some of the same opportunities," explained Charlotte Jewell, who has owned Jewell Gardens along with her husband Jim since 1996. Jewell Gardens' tour programs include, but are not limited to:

Golden Glass Blowing Experience. Participants receive a hands-on experience with glassblowing. Taught by professional glassblowing artists, class participants will make their own hand-blown glass art. This glassblowing class is offered exclusively on the cruise lines.
Lights Out Glassblowing & Guided Garden Tour. See an amazing glassblowing demonstration and learn about local history while taking a professionally-guided garden tour. This is a special tour for cruise ship passengers and includes appetizers and wine.
Rail Summit Suspension Bridge & Garden Lunch. You'll take the White Pass Train to the rail summit and suspension bridge in the majestic Klondike mountain range. After, you'll enjoy garden tour and gourmet lunch. This is an exclusive tour for Princess Cruise passengers.
Independent Travelers Glassblowing Class and Garden Tour. Glassblowing classes are based on availability. Take a self-guided tour. After, sample some wine and delicious small plates prepared by our renowned chief with organic ingredients from our garden.
The new reservations page will allow visitors to easily book tour programs in advance that were not available previously to the independent traveler. Indeed, thousands of travelers each year visit Jewell Gardens, one of the most popular tourist sites in Skagway, Alaska, and conveniently located just a mile from downtown.
"All of our tourist programs, from the Glass Demonstration Tours and Golden Glassblowing to Klondike Scenic Highlights and a Taste of Skagway, are customized and developed in collaboration with the cruise lines," said Jewell. "The cruise-ship packages, though varied, include a delicious gourmet tea service or lunch—all prepared with organic ingredients grown from our garden." All tours include some food, whether it's appetizers and wine or a delicious lunch or a gourmet tea service. Holland America Line's A Taste of Skagway tour even includes a gourmet chef's demonstration with many tasty samples. All of the food that is served at Poppies is prepared on site and incorporates organic ingredients grown in Jewell Gardens' USDA Certified Organic garden.
"Now, with the new website," Jewell went on, "people can learn about everything Jewell Garden offers—glassblowing, gourmet food, a guided tour in our beautiful garden, a site for wedding ceremonies with a five-star chef on hand for a delicious meal—and more."
The website's user-friendly reservation system will make it easier for those visiting Skagway to book one or more services. For Skagway travelers who value a quieter experience-- away from the busy downtown area— the garden offers a quiet sanctuary.
And for independent Alaskan sightseer, Jewell Gardens has added some new attractions.
Jim Jewell mentioned that as a tourist site in South East Alaska and a port for thousands of cruise ships every year, Jewell Gardens has been primarily geared toward visits from cruise-ship passengers. But as the number of independent travelers has grown—so has the interest in Jewell Gardens' recreational activities.
"We can only accommodate 10 glassblowing students at any one time, "Jewell remarked. "But with the new advanced reservation system our new website, everyone who wants to partake in the Glassblowing Experience and plans ahead should be able to reserve a space."
"Our website provides information about exciting tourist attractions and historical information about Skagway and the Alaskan Panhandle," Jim elaborated. "Whether you desire information on the Klondike Gold Rush, want to sign up for a glassblowing class, take a guided garden tour—or learn more about the organic food we serve at Poppies, Jewell Gardens' website has something for most Alaskan visitors. "And now, it's easy to book in advance with our online reservation system—and that's going to make a lot of people very happy."
For further information:
Visit us at http://www.jewellgardens.com
Phone: 907-983-2111
Info(at)jewellgardens(dot)com