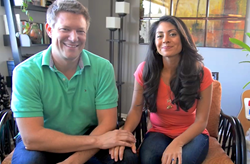 Who wants a new Cuisinart or coffee maker when you could have a brand new business instead?
Los Angeles, CA (PRWEB) April 11, 2014
Most engaged couples go the traditional route when it comes to registering for wedding gifts, registering at stores like Bed Bath and Beyond, Pottery Barn, and Bloomingdales. A Los Angeles-based entrepreneurial couple, Andrea Correa and Drew Arentowicz, had something a little different in mind – they decided to forgo a traditional wedding registry and invite their guests to participate in their Kickstarter campaign to help fund the first production run of their creative new product called Clicks Charms, a line of interchangeable, magnetic, charm jewelry for kids. And thus, the first ever Kickstarter Wedding Registry was born.
The couple made a short video to send to their wedding invitees to kick off the novel idea, and soon thereafter saw a huge spike in pledges. Within 36 hours of posting their Kickstarter Wedding Registry video over $10,000 in pledges came pouring in and they surpassed their $20,000 goal with 7 days remaining in the campaign.
The idea of Clicks Charms, and its unique sales strategy, was inspired by Drew's 9-year-old daughter, Lucja. She adored jewelry but a new piece would quickly lose it's luster and she would invariably want a new piece. This led them to design a unique line of cute, interchangeable, magnetic, charm jewelry so kids could collect, trade and swap out charms upping the fun factor of traditional kid jewelry.
More than an innovative way for kids to love their accessories, the couple is launching an innovative direct sales model through 'Clicks Kidpreneurs,' an initiative where kids will sell Clicks Charms directly to their friends. The goal is for them to learn important lessons about business basics and entrepreneurship at a young age. Drew said, "Lucja took our prototypes to school to market test them and ended up selling them to friends! We were blown away by how excited she was and how much she was learning about business in the process." For a 9-year-old, making her own money was like winning the lottery.
And for her parents, watching her passionately engaged in the business and selling process was priceless. Andrea added, "She was engaging, socializing, and learning all while having a blast! In this age when many kids spend hours glued to a computer screen or smartphone, being a Clicks Kidpreneur gives them an opportunity to develop social skills, and learn about the responsibilities and skills it takes to be an entrepreneur." They knew immediately this was something other parents and kids would be interested in getting involved with. And so, the 'biz-in-a-box' concept, Clicks Party Box for Clicks Kidpreneurs, took flight.
For those parents interested in learning more about this new product, or becoming a Clicks Kidpreneur, visit http://www.clickscharms.com, or email Andrea directly at andrea(at)clickscharms(dot)com.