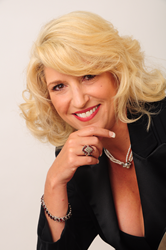 'I am so honored to be a part of such an amazing organization of women, and I look forward to participating in furthering the betterment and empowerment of women not only in politics but as a whole,' said Hunt
Los Angeles, CA (PRWEB) April 14, 2014
Sunday, March 9th 2014 Serial Entrepreneur and Business Strategist Shellie Hunt was approved as the newest board member for the National Women's Political Caucus. Not only acting as the newest board member Shellie Hunt is the keynote speaker for the upcoming EMMA Awards in October this year.
Exceptional Merit Media Awards (EMMAs) were created by the National Women's Political Caucus (NWPC) to honor and reward journalists and media outlets in radio, television, print and the internet that inform and educate the public about critical issues that impact women's lives. The EMMAs are presented at an awards ceremony and reception, also known as "the EMMAs," hosted by NWPC.
The NWPC brings an international community of women together to make a difference in our country. Founders include such prominent women as Gloria Steinem, author, lecturer and founding editor of Ms. magazine; former Congresswoman Shirley Chisholm; former Congresswoman and current president of Women USA Bella Abzug; Dorothy Height, president of the National Council of Negro Women; Jill Ruckelshaus, U.S. Civil Rights Commissioner and Ann Lewis, Political Director of the Democratic National Committee to name a few.
"I am so honored to be a part of such an amazing organization of women, and I look forward to participating in furthering the betterment and empowerment of women not only in politics but as a whole," said Hunt. "Women are in a very unique forefront both in the workplace and in the world. We are an active wave for positive progress and change, for not only ourselves but for our communities and generations to come," she added.
Shellie Hunt has dedicated her life to inspiring personal potential, business success, women's empowerment and corporate leadership, as evidenced in her businesses including Success is by Design, ReMake MY Life LLC, and The Women of Global Change, to name a few.
About Shellie Hunt -- Shellie Hunt's gift of transformational impact has taken her clients beyond motivation to lasting results through teaching the precise "How to" in the designs of your success from the inside out. Her successes include, global entrepreneur, life coach, international motivational speaker, trauma expert, author of the "Success is by Design" series, and TV executive producer. Shellie currently is a proud member of the Alliance of Women and Media, which promotes positive progress and change for women, sat as a judge for the nationally televised Gracie Awards, and is the newest board member for the National Women's Political Caucus.
More about Shellie Hunt can be found at http://www.successisbydesign.com or http://www.thewomenofglobalchange.com/.
About National Women's Political Caucus -- The National Women's Political Caucus is a multipartisan, multicultural grassroots organization dedicated to increasing women's participation in the political field and creating a political power base designed to achieve equality for all women. Founded in 1971, the NWPC prides itself in increasing the number of pro-choice women elected and appointed into office every year. Through recruiting, training and financial donations, the NWPC provides support to women candidates running for all levels of office regardless of political affiliation. In addition, hundreds of state and local chapters reach out to women in communities across the country to better assist them in their dreams of being elected into office. The NWPC strives to break the glass ceiling, which restricts a woman's ability to climb the political ladder, one crack at a time.
More about the NWPC can be found at http://www.nwpc.org/home.