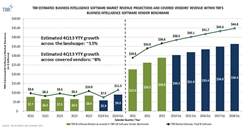 Hampton, NH (PRWEB) April 10, 2014
Technology Business Research Inc. (TBR) announces the launch of its Business Intelligence (BI) Research Portfolio, which includes deliverables based on the growth of and opportunity for software companies and services vendors in both markets. TBR's BI Research Portfolio includes vendor-centric research from the BI Software Vendor Benchmark as well as the forthcoming BI Software Addressable Market Forecast and BI Professional Services Vendor Benchmark. The research portfolio includes end-user insights from TBR's BI SourceIT report, which evaluates BI purchases and budgeting with a focus on industries including financial services and telecom. Information and results from the forthcoming BI Software Buying Behavior and Professional Services Buying Behavior programs — direct customer insights spanning purchase drivers and deployment needs — will also be included. TBR's BI research delivers value for clients through a comprehensive understanding of current and evolving BI customer behaviors, and helps TBR's clients realize market opportunity based on customer perception and assessment of BI vendors as well as identified best practices of leading BI providers.
TBR's analysis of business models and vendor performance guides clients toward understanding the BI market end to end — from customer need to concept, through purchase and implementation. This is a differentiated view in the research industry and provides insight that extends beyond internal visibility to customer bases. End-customer interviewees noted that, "[business intelligence] is very important to locate hidden areas of potential growth … and to organize the data to trap future opportunities."
However, helping customers find areas of hidden potential in their businesses isn't the only challenge facing BI software and services vendors, asserts TBR senior software analyst Elizabeth Hedstrom Henlin. "Business intelligence software vendors face a market landscape where growth dictates being able to equally serve advanced BI customers, who got on board early and know exactly which niche tools they need to expand current deployments, as well as basic BI customers that know they need to have fundamental BI implementations and don't know where to start," she said.
Patrick Heffernan, principal analyst on TBR's professional services team, agreed. "Digital is the new form of content. Cloud is a delivery vehicle and mobility can provide access. But understanding that content — the business intelligence or analytics services — that is how leading IT services companies are going to separate themselves in a crowded, buzzword-littered field."
For more information about TBR's BI Research Portfolio please contact Alison Crawford, senior marketing manager, at 603.758.1838 or Alison (dot) crawford (at) tbri (dot) com, or James McIlroy, vice president of sales, at 603.758.1813 or mcilroy (at) tbri (dot) com.
ABOUT TBR
Technology Business Research, Inc. is a leading independent technology market research and consulting firm specializing in the business and financial analyses of hardware, software, professional services, telecom and enterprise network vendors, and operators. Serving a global clientele, TBR provides timely and actionable market research and business intelligence in a format that is uniquely tailored to clients' needs. Our analysts are available to further address client-specific issues or information needs on an inquiry or proprietary consulting basis.
TBR has been empowering corporate decision makers since 1996. For more information please visit http://www.tbri.com.