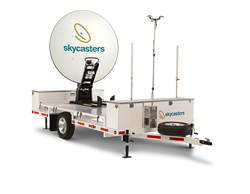 The oil and gas industry and the disaster recovery market are just two examples of the companies that can benefit from the 1.8 MST.
Akron, OH (PRWEB) April 10, 2014
Skycasters, the leader in broadband satellite Internet for businesses, announces its newest and largest Mobile Satellite Trailer (MST). The new 1.8 MST features a 1.8-meter satellite dish and a host of enhancements that will appeal to people involved in oil, gas & mining, disaster response, construction and other industries where being in touch by remote is essential.
The 1.8 MST is the next generation MST product from Skycasters. "We built the 1.8 to give our customers additional options when it comes to service levels and signal strength," says James "Skip" Anderson, Skycasters director of sales and marketing. "The new trailer's dish can accommodate even our largest bandwidth packages."
The self-contained mobile communications unit features a self-pointing satellite dish that can establish an Internet connection and wireless hotspot anywhere in about 10 minutes. A 2,000-watt Honda generator powers the unit, allowing for applications such as RoIP, VoIP, wireless mesh networking, micro cell, video surveillance, PTMP (point-to- multipoint communication), cellular backhaul and SCADA (supervisory control and data acquisition).
"The oil and gas industry and the disaster recovery market are just two examples of the companies that can benefit from the 1.8 MST," says Anderson. "Both industries need to establish communications in remote areas and must be able to rely completely on the speed and strength of their satellite Internet connection. The new, 1.8 MST gives them that—a signal that's stronger and less vulnerable to the effect of weather."
Beyond signal strength and reliability, the larger trailer provides a secure, stable environment from which the unit can operate. The 1.8 MST features a rated torsional suspension load double that of previous trailers from Skycasters. A three- section turtle shell cover protects the trailer during transit.
Additionally, the larger size trailer accommodates a host of improvements, including a removable, insulated electronics box equipped with an iDirect Evolution® X-5 modem and a removable aluminum server rack for easy access to electronics. The server rack is equipped with two axial fans that provide more efficient cooling to the electronics. In addition, an electronic controller inside the box works in tandem with an exterior-mounted HVAC system featuring a 1,000-BTU closed loop air-conditioner. It is built to protect electronics from outdoor heat up to 120 degrees F. Housing on the exterior unit is made of stainless steel to also withstand harsh weather.
Additional storage space contains a fire extinguisher, a tool kit and an LED light pole with room for more. The portable, collapsible LED pole features dual 9-watt light bars and connects to the electronics box for portable on-the-spot lighting.
An optional extended-run gas tank system for the Honda Generator allows users to maintain communications via satellite on longer excursions.
About Skycasters
Skycasters has been the industry leader in VSAT technology since 2001. The company delivers commercial broadband satellite Internet access, secure VPNs, mobile portable satellite Internet and corporate data services to customers around the world using three geostationary satellites for coverage virtually everywhere in the western hemisphere.
For more information, please visit the Skycasters website at http://www.skycasters.com/?utm_source=m008001.