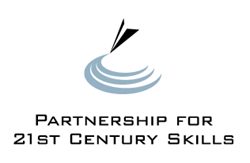 Washington, DC (PRWEB) April 10, 2014
P21, the national leader advocating for 21st century readiness for all students, has publically submitted comments in support of Modernizing the E-rate Program for Schools and Libraries with the Federal Communications Commission.
P21, a broad coalition of education, business, nonprofit, and policy leaders, is committed to ensuring that all students graduate with deep content knowledge, and the creativity, communication, collaboration, and critical thinking skills, required for postsecondary success. Guided by this important national objective and a desire to promote new approaches to teaching and learning, P21 supports cutting edge research, promotes evidence based education policy and practice changes.
P21 strongly supports the FCC's decision to update and expand the E-rate and ensure schools offer universal access to the technologies, broadband capacity, and other digital tools driving economic innovation and growth across the country and around the globe. P21 encourages the FCC to focus this incredibly successful program on helping schools swiftly connect all students to high capacity broadband services. Access to broadband enables students to learn and acquire knowledge and skills in relevant, real word contexts; supports expanded community and international involvement in learning; creates greater opportunities for educator collaboration; and enables sophisticated new online assessments of learning, including skills-focused performance assessments and other next generation assessment models. Read the official comments on our website: http://www.p21.org/our-work/advocacy
About P21: P21 is a national organization that advocates for 21st century readiness for every student. As the United States continues to compete in a global economy that demands innovation, P21 and its members provide tools and resources to help the U.S. education system keep up by fusing the 3Rs and 4Cs (critical thinking and problem solving, communication, collaboration, and creativity and innovation). While leading districts and schools are already doing this (see Exemplar Program), P21 advocates for local, state and federal policies that support this approach for every school. http://www.p21.org
P21 Members: Apple Inc., Bahcesehir K-12 Schools, Cable in the Classroom, The College Board, Common Sense Media, Crayola, Destination Imagination, EdLeader21, EF Education, Education Networks of America, Ford Motor Company Fund, Gale Cengage Learning, Goddard Systems Inc., Intel Corporation, JP – Inspiring Knowledge, Learning.com, LEGO Education, National Board for Professional Teaching Standards, National Education Association, PBS, Pearson Foundation, People to People Ambassador Programs, Project Management Institute Educational Foundation, U.S. Fund for UNICEF, VIF International Education, and The Walt Disney Company.
P21 Leadership States: Arizona, California, Illinois, Iowa, Kansas, Kentucky, Louisiana, Maine, Massachusetts, Nevada, New Jersey, North Carolina, Ohio, Oklahoma, South Carolina, South Dakota, Vermont, West Virginia and Wisconsin.